As the world of Human Capital Management (HCM) continues to evolve, new and important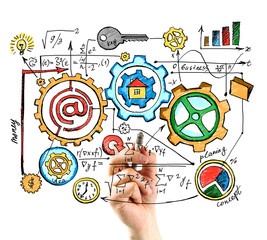 questions are arising about the most effective ways of developing talent for organizations trying to execute their business strategies and achieve their goals and objectives.
We are faced with an amazing convergence of factors hitting talent development all at once:
The global business day seems like it is 24 hours a day 7 days a week
Millennials are entering the workforce with different ideas and expectations
Many Baby Boomers are getting ready to retire within the next 5-10 years
Technology is a disruptive force that changes everything
As talent development evolves, various business concepts come and go in mystifying ways. There are countless examples ranging from "Blue Ocean Strategy" to Total Shareholder Return (TSR) to Emotional Intelligence to Crucial Conversations.
But one concept that seems to have withstood the test of time is the 70-20-10 leadership development model. The model – invented by the Center for Creative Leadership and based on years of studies on how leaders learn to lead – is based on the hypothesis that leadership is learned through action oriented doing.
With our own experiences as evidence, plus all of the data from the past 30 years and the Corporate Leadership Council, leaders agree that on-the-job learning has three times more impact on employee performance than "traditional" training programs.
I will challenge this thought in a moment…
The 70-20-10 model calls for 70% of development to consist of on-the-job learning, 20% of development coming from coaching and mentoring, and 10% from "classroom" or traditional methods of training.
But in this day and age, the day of the classroom learning experience is over. Among the delivery methodology continuum we have mobile learning, eLearning, live webinars, virtual learning environments, and much more.
I don't think there is a talent development professional today who believes that the 70-20-10 model is still a linear model for leadership development. Most people will agree that in most cases, the model's three components reinforce each other in a system of learning.
The model builds on the belief that humans retain the most information when they gain it in a practical context. Learning is more powerful when the lessons learned are through experience and then reinforced with coaching, discussion, and follow-up learning.
At Advantexe Learning Solutions, we believe that 70%+20%+10% actually equals 110% when simulation-centric learning is the catalyst for the leadership development process.
Simulation-centric learning is a methodology that enables the learner to learn-by-doing by placing the participant in a realistic situation such as a "year in the life of a new manager" simulation. Everything else, including content, discussions, cases studies, best practices, tools, and performance support, can be built around the simulation-centric learning experience.
For example, we recently launched a new, focused leadership development workshop that helps participants develop skills in the area of Change Leadership. Instead of a traditional classroom setting where an instructor tells participants about change, the very first thing that happens is participants have the opportunity to actively participate in a business simulation. First participants are divided into small teams of 3-5 and they collectively take on the role of a new leader in a fictitious company called ABC, Inc. Avatar characters come to life and present challenges and opportunities, and the new leader is faced with decisions around individual and team leadership.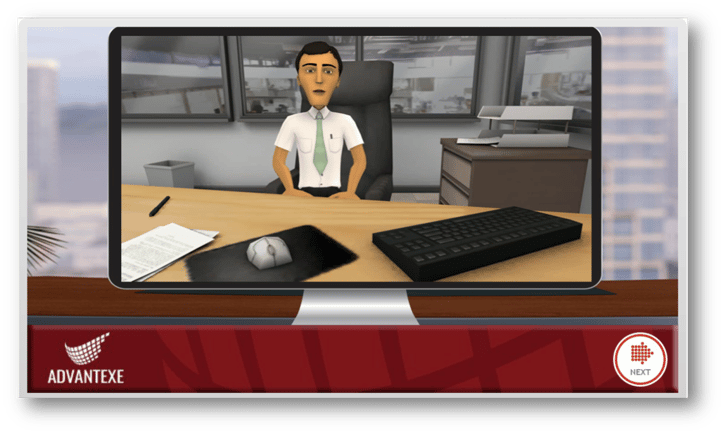 Suddenly, right after you listen to the CEO webcast updating the organization on strategy and results, Fred Krome (one of the people you are leading from manufacturing) bursts into your office having a temper tantrum about the changes going on in the organization and his frustrations. He is very upset and decides to quit. For the second time this week!
So what do you do?
Do you just try to calm Fred down?
Do you accept his resignation?
Do you "take his side" and tell him "they" just don't get it
Do you try to explore the reasons that are driving his frustration?
The decision participants make will then trigger further scenarios that are all about change leadership.
At the end of a 60 minute/20 scenario simulation workshop, a deep debrief and results session provides participants with the ideas and insights about Change Leadership. This simulation-centric approach is the complete inverse of traditional methods of talent development, but at the same time provides a unique learning by doing experience that is very similar to real life.
Therefore, we believe that this simulation-centric approach is a catalyst for accelerating the 70-20-10 leadership development model and will help organizations address the challenges that they face with the changing world in terms of global business, millennials, baby boomers, and technology.