"Community is the new marketing: You don't build a community to "promote your product" You build a community so you DON'T have to promote your product. Point: community is the great growth unlock"
GREG ISENBERG @gregisenberg
I read that quote on twitter this week as I have been working on a very interesting business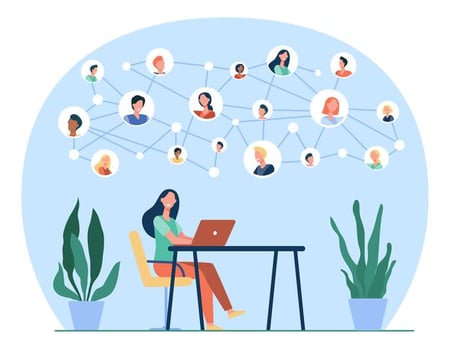 simulation customization that is enhancing the Marketing skills of participants in the Consumer Packaged Goods industry. My assignment has been to research and develop content and learning tools that support the development and execution of community-based marketing strategies. I have found this project fascinating, and I am excited to share some of the highlights in this blog post.
What Are Community-Based Marketing Strategies In 2021 And Beyond
Community-based marketing brings professionals together around a shared practice or area of expertise to create closer, and more valuable, relationships with prospects and customers.
As we are now learning in the post-COVID environment, there is no marketing plan without any digital marketing strategies, and community-based marketing must be part of the new normal. But what are these community-based strategies and more importantly, how can they help your marketing efforts thrive and have impact?
Start with Understanding Your Customers Better Than They Understand Themselves
It's hard to do, but it is becoming more critical than ever. As we teach in our Business Acumen programs, this piece of advice is valid for every marketing strategy and in every step you take in developing and deploying your Marketing plans including your community-based strategies.
The best Marketers of 2021 and beyond will need to gather data, research their competitors' online communities, create surveys, and engage and study their findings before being sure they can define what a community is and how they can address it.
To define what a community is, brands and marketers will need to know the following 3 things:
What problem does their product or service solve?

What values do they share with their competitors?

How can they market those values to attract like-minded audiences?
The answers to those questions come from key factors that influence the ways online communities operate. Members of those communities are people with common interests, ideas, who act and interact in a certain way, both between themselves and with brands. Finally, they are those who feel a need to give back to their community.
Suppose a product or a service addresses specific opportunities, and the brand behind those uses a tone of voice that resonates with some members of an online community. For example, new formulations of laundry detergent that sanitize and kill 99.9% of germs and viruses like COVID-19 on contact. In that case, there is a high chance that all the members of the community will eventually be interested in that product or service. Doing some thorough research, finding the ideal target audience, and marketing to them will boost your marketing efforts.
You Must Become a Participating Member of the Communities You Target
It is impossible for marketers or brands to capture any online community and slowly build their own if they're not active members of that community. This is where smart marketers come in.
As a marketer, you'll need to first act as a prospect if you want to access all of the benefits community-based marketing has to offer. Be an active member. Show an interest in participating, ask questions, see what your prospects are passionate about, and ask them why. Basically, all you need to do is contribute in any way you can.
I am a big believer in the power of LinkedIn. Many of our Strategic Business Selling programs use tools of building community in LinkedIn as a primary prospecting strategy. LinkedIn is an excellent place for marketers who would like to build a brand through online communities and contributions.
As a marketer, you must take as many shots on goal as you can, and your best shot would be to publish content that will be educational and informative. After all, community-based marketing is not about the hard sell. By doing so, you will reach audiences interested in what you have to say and would love to hear more for you, establishing your brand's name as a niche authority.
Engage with Prospects
"What is important to you.", "What topics are of interest?" "What are your biggest challenges and opportunities?" "Do you like our products?" "Show us your sanitized yoga outfit!"
All these questions are the foundation for engagement and open the lines of communication between you and your prospects. More and more communities are creating emotional connections between people and brands and much of those connections are very inexpensive to execute compared to traditional methods like television.
In summary, the changes in the way we Market are as volatile and different than every other part of our business worlds. As you start to think about your 2022 Marketing strategies, I suggest community-based marketing become a primary element of that strategy.
Additional reading: Marketing, Please Take Your Seat at the (C-Suite) Table