How Can Business Simulations Enhance the Learning Experience
Almost every time I interview a senior business leader for the purpose of customizing one of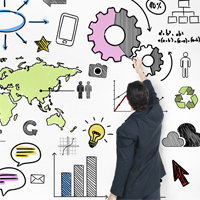 Advantexe's leadership focused business simulations for a business leadership development program, I hear the old cliché mixed into the conversation – the best leaders in the world "lead by example." However, it struck me that in today's fast-paced, evolving, 24/7, turbulent global business environment, employees and other observers outside of an organization are not watching leaders in the same way that they used to.
Once upon a time, it was certain that every business leader was being watched and observed in the business environment and that their style, culture, methods, and approaches directly influenced those around them and those who watched them, including the bankers and analysts making investments in their companies. Today, employees are engaged and learn from leaders in many different ways and from an infinite number of sources including social media.
So, if the traditional "leading-by-example" method of teaching others around you "what to do" and "how to do it" has become diluted by change, the volume of work, and virtual workplaces, is there another method that leaders can use to lead by example?
We believe that there is very interesting and dynamic way: computer-based business simulation workshops that develop the skills and tools needed to make the best possible business decisions. Below are three ways that business simulations can improve your leadership development training programs to develop the skills and methods to lead by example.
1. Business Leadership Simulation Workshops are Engaging
A well-designed business leadership training and development engagement utilizes a business leadership simulation to provide the perfect environment for engagement and dialogue around critical business issue, including setting and executing strategy, creating alignment, and measuring success. Within a learning workshop, participants learn from each other while leaders can lead by example in a risk-free environment.
2. Business Leadership Simulation Workshops Create Environments for Flexibility and Change
In Advantexe's most sophisticated business leadership workshops, participants are thrust into a situation where they have to assess the current circumstances of a business environment and then work together with their team to choose a strategy to fix the business situation. By doing this, participants and leaders quickly learn how to be flexible and adapt to change. In the course of several days, they can run four simulated years of business, thus understanding the trade-offs between short-term and long term decision making and how effective leadership can drive business results and ultimately shareholder value.
3. Business Leadership Simulation Workshops Present Opportunities for Intense Focus
In our opinion, the best way a business leadership simulation workshop develops leading-by-example skills is to present participants with the opportunity to learn and focus in an intense situation. When Advantexe delivers a business leadership simulation workshop, participants take a break from the outside world. They are able to close their computers, turn off their smartphones, and concentrate on the learning experience, and the focus is intense. When teams of participants choose and execute a strategy through operational decisions, the conversation, the thought, the sharing of ideas, and most importantly the exhibited leadership behaviors are magnified; everyone is watching and learning. This intense focus on learning through simulations provides the opportunity to debrief and discuss what was learned and how participants were able to lead by example, which is immediately applied back to real-world leadership techniques.
As always, thoughts and ideas are welcome!