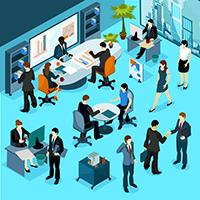 The original title of this blog came from a client in deep distress and frustration. He called to tell me that he had a great new title for a blog post that I should write and publish immediately. He was not in a happy place when he shared his idea for me; "Leading beyond operational stupidity." In a time where political correctness seems to have less value, I still believe that use of proper language, grammar, and appropriateness, so I changed it to "Leading Beyond Operational Inefficiencies."
As you scan the business ecosystem, there are an infinite number of ways to categorize a business including; large, small, medium, innovators, fast followers, customer-centric, etc. One of the ways that leaders and investors look at a business is on the continuum of Agile vs. Bureaucratic.
Agile businesses are evolved and have the organizational ability to move quickly and to move smartly. Bureaucratic organizations are slow, antiquated and are decomposing in front of your eyes.
One of the most interesting things about being in business is that in today's global marketplace, it is truly rare to find companies that are able to create scale, grow in size and value, and remain efficient in operations and processes. For most companies, the larger they get, the more inefficient they get, and the more inefficient they get the more frustrating it gets to work inside of them which was the reason for the call from my client who was ranting about how manufacturing missed communicating with transportation who missed a shipment which upset the customer.
The Business Leadership Challenge of Leading Growth
One of the several downsides of business growth is that it is extremely hard to lead and manage the growth effectively. At Advantexe, we have the belief that leadership is equal to the execution of your business strategy and unfortunately one of the things that many leaders fail to do in their job is to stop and think through the implications of growth. It is a great feeling and often financially rewarding to watch revenues and profits increase year over year – and key part of Business Acumen – but too often organizations don't even realize that they reach a point where it is impossible to pivot or change their direction. Despite the overall value proposition to customers – whether it is Product Leadership, Operational Excellence, or Customer Intimacy, they reach a point where the ability and desire to innovate and evolve the strategy is impossible. At the same time, the cost to change – financially and / or emotionally – is so high that leaders just let the inertia of the business take it to the next level no matter where that next level really is.
Drivers of Inefficiencies
There are typically several primary drivers of inefficiencies in organizations including the wrong strategy, a lack of skills, the lack of good processes, poor culture, unaligned functions, or the wrong business culture. It is very easy for organizations to fall into the trap of having a culture of "business as usual". This mindset forces leaders to figure out how to find that right balance between delivering the right value proposition to the right customers today, versus evolving to the right value proposition to the right customers of tomorrow.
Having inaccurate and outdated process are also a big challenge as functional leaders will try to figure out their own processes. Most of the time, these processes will not be aligned to other processes within the organization and often integrate disparate technologies. Many times having different processes across different business units can cause organizations to implode, or burden them with tremendous inefficiencies.
The worst driver of inefficiencies is a lack of skills and talent. Organizations that forget to invest in talent development because they are too busy or decide to cut skill building budgets, are signing their own death certificates a few years in advance.
To help my client, I walked him through a few ideas that we have been researching as part of our new Business Leadership Curriculum. Here are three key strategies to help eliminate organizational inefficiencies:
Identify the drivers of your inefficiencies
The first place to start is an internal workshop to identify the drivers of your inefficiencies. Are they cultural? Skill-based? Market driven? I would recommend a neutral third party to help and take the politics out of the discussion.
Invest in training
Too many organizations that have become stagnant and inefficient have not invested enough in training and development. Whether it is just a high potential leader program or an online virtual Business Acumen solution, it is critical to invest in news skills and tools that keep people thinking and moving forward.
Weed out those who can't change
It may sound passé, but one of the most important things that you as a leaders can do to fight operational inefficiencies is to terminate and replace the people who are the most inefficient. They are never going to change because they don't want to change and you don't have enough time, energy, or money to hope and wait.