Between Flawless Execution and Innovation
They are two of the most important concepts and drivers of long term success in business; "Flawless Execution" and "Innovation."
Most businesses thrive and stay in business through the efficient operationalization of a value proposition to customers. The process of delivering a value proposition over and over again should create strong efficiencies and should create a culture of flawless execution. Flawless execution is when the value proposition is delivered to the customer without any mistakes and the customer is 100% satisfied that the value proposition is the value proposition ordered.
In the real world of business it's just not that easy.
One of the subtleties that Advantexe teaches in our core Business Acumen and Business Leadership training programs is that any of the three primary value propositions – operational excellence, customer intimacy, and product leadership.
Operational excellence is defined as a value proposition that drives costs out of the system so that you can offer your customers lower prices. Walmart is the classic example of operational excellence.
Customer intimacy is understanding your customers better than they understand them themselves and delivering complete and integrated customized solutions with impeccable service. Nordstrom is the classic example of customer intimacy.
Product leadership is designing and creating new, innovative, disruptive solutions to early adopter customers willing to pay a premium for the innovation. Apple and Tesla are today's classic examples of product leadership.
In Operational Excellence, there is an interesting dynamic between the customer's expected value received and the difficulty to deliver it. The graphic below illustrates what happens over 5 cycles of business: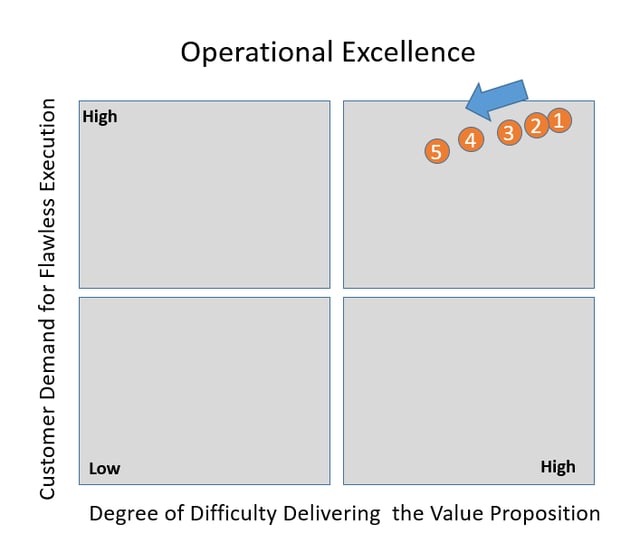 In this illustrations customer expectations are highest in period number one of Operational Excellence execution. However, as time goes by and competition increases lowering prices to customers even further, customer's expectations for flawless execution drop slightly from period one through period five.
It is a significantly different story for customer intimacy. In this example, the level of expectation from the customer is always going to be high and it will not change. Over time, the ability to deliver the consistent value proposition may get a little easier but not much. This is a very difficult value proposition to deliver consistently.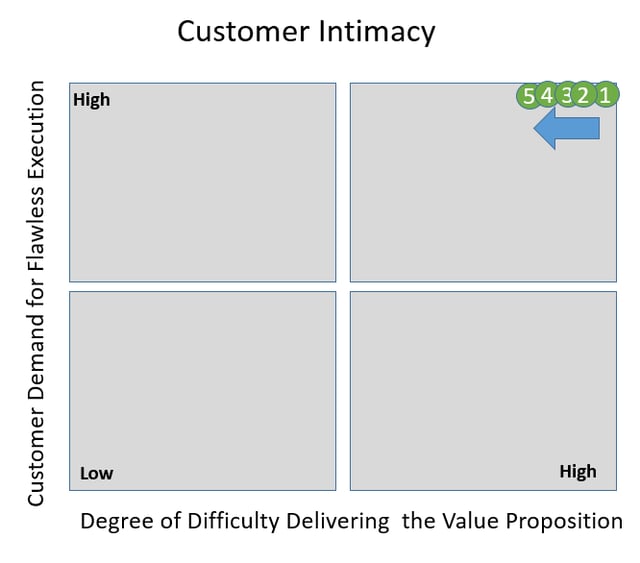 Product Leadership presents yet another perspective and a significant leadership challenge. In this illustration, the degree of difficulty for an organization to deliver a new innovative product is extremely high. However, customers have a little "leeway" here and their original expectations are slightly forgiving because they know it's a new innovation and have some ability to let you "work the bugs out". The first Tesla Automobiles for example were really innovative being an electric car, but the battery life was nowhere near as good as it is now several generations later. As a result, customer expectations for flawless delivery are higher.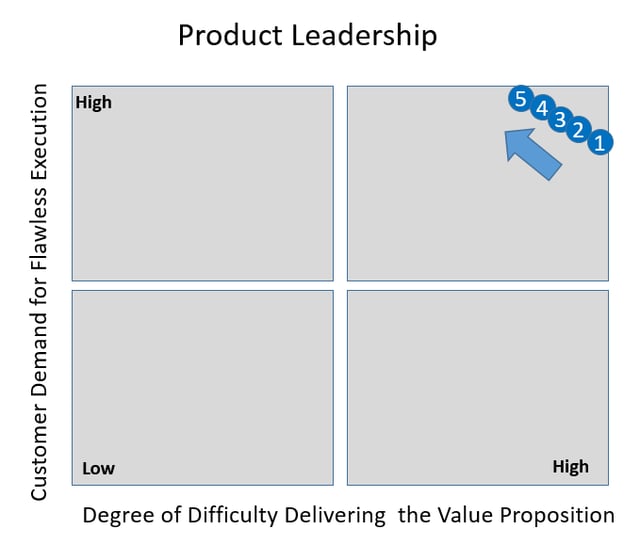 As customer expectations for flawless delivery go up over time, customers expect the product leadership company to continue to invest in more innovation and to invest in continuous improvement of that innovation.
Which gets us to the main point of this blog.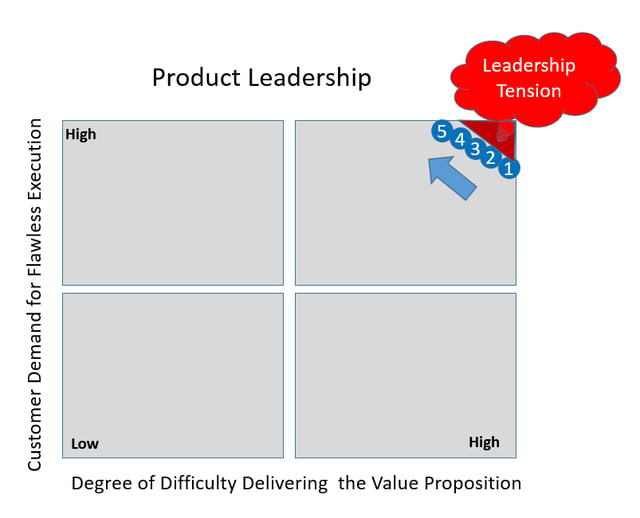 That space or area on this illustration between the increasing customer demand for flawless execution and the degree of difficulty creates a dynamic leadership strategic tension within a company executing Product Leadership. The functional executors of the strategy – R&D, Manufacturing, Sales, and Marketing – all want to focus on innovation (the value proposition) but leadership has to focus on execution (Operations and Supply Chain) and making sure the product is the best it can be. This difference can seem very small, but it actually can have a significant impact in the business.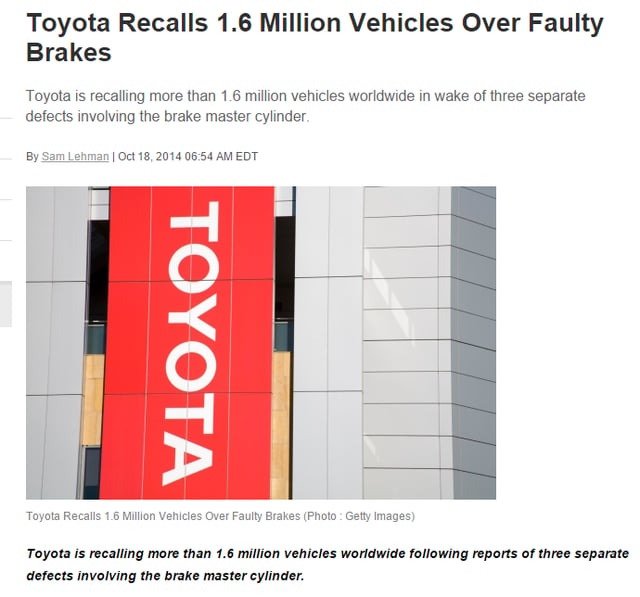 Consider Toyota for a moment. Toyota has been struggling with the tension between innovation and flawless execution for the past several years. As their engineers try to keep up with and our maneuver their competitors, they keep making bad mistakes in terms of execution.
Over the past several years, Toyota has been forced to recall millions of vehicles for poor execution.
There are several key takeaways from this discussion but the most important is that everyone needs to be aligned with the strategy and more importantly what that strategy means in terms of translating it into actions and tactics. Leaders must execute the strategy through great communication, feedback, and coaching on the right things for the strategy and most importantly the customers.