Over the past few months Advantexe has experienced a significant surge in the demand for marketing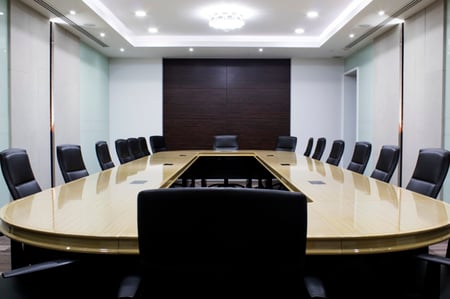 focused business simulations that develop skills and competencies in what we are calling, "Marketing for 2021 and Beyond."
The increased demand has been from every industry with a slightly heavier emphasis coming from life sciences, high tech, consumer packaged goods, and financial services. The requests have ranged from simulations designed for marketing professionals to improve and expand their skills, to marketing skill building for employees in various non-marketing functions to better understand the role and importance that marketing has in the new value chain of an organization. In other words, developing empathy in a cross-functional environment.
This focus and importance on Marketing has evolved dramatically since COVID. Traditionally, Marketing was place where you stuck the summer interns to do grunt work and it was the first function to cut budgets after a recession hit. Marketing was looked upon as the group that just spent money on the cute mascot or talking box and never really had much accountability. Marketing always had a built-in excuse that it was "very difficult" to track effectiveness because tracking tools were limited except for activities like running a "brand awareness" survey or directly asking a prospect where they heard of you.
The advent of marketing automation and digital marketing was the start of legitimacy for Marketing as a critical driver of success. Marketing automation has finally given Marketing a way to present data on the effectiveness of marketing programs to the executive leaders and board of directors. Marketing can now track things like visits, blog reads, email open rates, social media engagement, clicks on web sites, conversion rates, qualified lead flow, and many more.
This transformation of Marketing as a catalyst for success has helped to create legitimacy and build respect from the C-suite. However, it may not be enough. Despite now having insights into customer engagement with marketing programs, Marketing now needs to take the next step to show a true link to real business performance improvement. Today, Marketing is now not only tracking those engagement and interaction KPIs, but flexing their business acumen skills by also building metrics that show a true return on investment, both in the short and long term. It is these metrics that are getting the marketing function invited to the C-suite table.
A few months ago, Advantexe had the opportunity to work with a large technology company to build out a marketing focused simulation to help their marketing professionals better understand the importance of these new metrics. Despite all these new tools, their marketing team was not clear on how marketing was driving the business. They were being weighed down by the pressures to just generate more leads for the sake of building the metrics.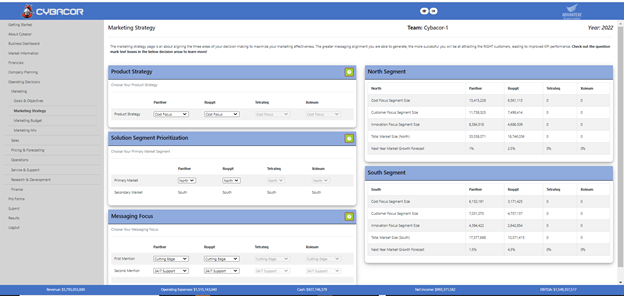 The simulation was designed to illustrate the linkages of marketing to the corporate strategy and how marketing was critical to the alignment of cross-functional decision-making. The simulation allowed learners to set product strategies, choose appropriate market segments, and develop messaging for each segment.
After the strategic marketing plan was set in place, learners built out their promotional budgets and allocated their budgets to the appropriate promotional mix, with an emphasis on digital marketing (the client wanted to help the teams better understand the digital transformation).
Adding to the complexity of the simulation, we also added a component that created tension between time and budget as it is often not only budget that impedes success, but it is also the number of resources and the technology infrastructure that creates scale and efficiency.
For the results of the simulation, we were able to build in the interaction tracking such as web traffic and social engagement, but we also built our model to link to the decision sets of real business metrics that were directly tracked to marketing activities that show measurable improved business performance such as,
Return on marketing investment
Lifetime value of a customer (LTV)
Customer acquisition cost (CAC)
Customer retention rates
What learners experienced through the simulation was that marketing has become the "hub" of the company. It wasn't just those traditional promotional activities, but Marketing helped support sales, informed R&D of what buyers preferred, provided forecasting data for the supply chain, and helped to create differentiation that was a major part of driving market demand.
Summary
In a short time, marketing has gone from an expense center to the heart of any business today... and that has spurred the marketing function to be a critical company at the C-suite table. Marketing, due to digital transformation is the driver of sales, operations, supply chain, and it fuels R&D with ideas, insights, and data. Marketing is no longer that stand alone expense center, it is the starting point of the company and has rightly justified a seat at the table.