The next blog post in our series on The Business Issues People are Thinking About is focused on one of the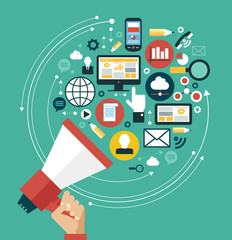 most disruptive changes that has ever impacted business; Digital Marketing.
Over the past couple of years, Advantexe has identified the transformational disruption of the Marketing and Sales processes as one of the most important trends in business that will require organizations to provide new skills and tools to their employees. The most significant shift that organizations need to evolve to is how to embrace the differences in how customers buy moving from Awareness to Consideration to Decision Making. The Business Acumen skills needed are profound and will require significant investment and it's important to know that everyone in business needs these new skills, not just the cool kids.
What is Digital Marketing and how is it Different from Traditional Marketing?
Digital Marketing, which I hope will be called just "Marketing" by the end of the next decade, is defined as a process that includes and integrates all marketing efforts that use digital devices and the internet to deliver messages about a product or service for sale to a customer(s). Businesses utilize digital channels including email, search engines, online advertising, social media platforms, chat bots and their own adaptive websites and mobile devices to connect with prospective and existing customers. One of the best aspects of using digital marketing is the ability to efficiently target the best message to targeted customer segments.
Digital Marketing 101 – What are the Basics?
There is an infinite amount of information about digital marketing to share so I am going to focus on a few of the most critical and foundational elements that drive marketing success. And don't forget that marketing success should be directly correlated to the execution of the overall business strategy
Messaging Focus
The first step of a great digital marketing strategy is choosing the messaging focus. In our research and in our business simulation designs, we have learners think about the focus of their message. Typical messages can include:
Thought Leadership – "We are the experts in this space and we have unique perspectives and solutions."
Product Value – "We have the best product in the market."
Brand Awareness – "We have the best and strongest brand in the market."
Product Features – "We have the best product feature set in the market."
Price – "We have the lowest price in the market."
Green – "We are the Green / Natural alternative in the market."
Email
Because you've just received the 674th junk email of the week, you understand that companies use email as a way of communicating and positioning value to their targeted audiences.
Email is typically used to introduce new products, to offer discounts, invite customers to events, promote content, and direct prospective customers to branded web pages and sites.
The types of emails most commonly used include:
Introductory emails
Tips or "how to" emails for customer nurturing.
Blog awareness and push emails
Follow-up emails to website visitors who downloaded something
Promotions and discount emails
New product launch emails
Social Media Marketing
Social Media Marketing is still smoking hot. This approach promotes your brand on social media channels to increase brand recognition, product awareness, drive traffic, and generate leads for your sales team. There are dozens of potential channels and the strategy should be matching the right channels to the right segments. Some of the most important channels include:
Google
LinkedIn
LinkedIn Sales Navigator
Twitter
Facebook
Instagram
Snapchat
Pinterest
Digital Public Relations (PR)
Digital PR is the process of gaining and acquiring important and impactful online coverage of your message in blogs, news sources, digital magazines, and content-based websites. Digital PR helps to drive your search engine optimization (see below). Some of the methods that can be leveraged include:
Digital reviews of your company and products
Sponsorships of charity events and their websites
Reporter contact and becoming an expert source
Leaving comments on targeted sited
Search Engine Optimization (SEO)
SEO is the process of optimizing your website and web pages to "rank" higher in search engine results pages, thereby increasing the amount of organic traffic your website receives. Organic web traffic is typically free which saves a company significant budget. The typical channels that benefit from SEO include:
Blogs
Social sites
LinkedIn
Websites
Content syndication
Search Engine Marketing (SEM)
While SEO is typically focused on driving free web site traffic, Search Engine Marketing (SEM) is a form of digital marketing that focuses on the promotion of websites and web pages by expanding visibility on search engine results pages through paid advertising. These can include:
Remarketing campaigns – allows targeted ads to essentially "follow" a potential customer that had previously visited your website
Banner Ad campaigns
Pay per click campaign on search engines and video site YouTube
Promotional ads on social feeds
Promotional ads on mobile apps
Content Marketing
One of my personal favorites, Content Marketing is a process of developing and then promoting content assets for the purpose of creating awareness, more traffic, leads, and hopefully new customers. The digital channels that can best support your content marketing strategy include:
Blogs
Research studies
Customer-based case studies
Whitepapers
Infographics
Self-serve brochures
In summary, while I hope some of this information is helpful, it's just the beginning of a long process to master the concepts of Digital Marketing. Several industries such as the Pharmaceutical industry have leapfrogged other industries in terms of sophistication and tools used to drive business performance. I had the honor of developing an award-winning digital marketing simulation for one of our clients and happy to share more insights in terms of the skills and tools needed to be successful.