If it hasn't happened to you yet, it will soon; the opportunity to lead during a transition. In 2016 and beyond, it is inevitable. Your company will be bought, merged with another, spun off, have a new strategy, have new leadership, or all of the above within the next 24 months.
This volatile, uncertain, complex, and ambiguous business world presents major challenges to business leaders and in fact leadership in this VUCA world is less about getting the job done and more about surviving through a transition.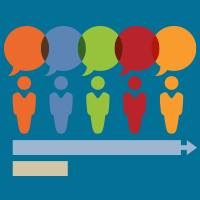 Some may call this leading change, but I think transition is an interesting cousin to change. Much of the literature on change leadership presents information about external factors changing either incrementally – which people simply get used to – or through disruptive change like a new competitive technology that makes your products obsolete.
To me, a transition is completely controlled by your organization; your organization (usually) makes an educated business decision to sell itself, merge with another organization, spin-off, develop a new strategy, or hire new leadership. In essence it is a proactive choice rather than a reaction and strategy to manage the reaction.
Over the past few weeks, I have designed a leadership insights survey and focus group process to gather information and present a point of view about the best practices of leading during a transition. I sought to find no-nonsense, straight forward insights to present in a series of blogs and eventually some of our Business Leadership workshop and business leadership simulations.
During the research, we found six key and interesting factors that present useful leadership best practices that can applied immediately back to the job of being a leader.
The data and finding are so rich that there is enough for six continuous blog posts as part of a unique series. Here are the findings and we will publish our leadership insights about these six points over the coming two weeks:
With all of these transitions, there is no more employee loyalty. How do you effectively lead people when they aren't loyal to you or your company?
One of your primary leadership goals is to develop and deploy a short-term employee engagement strategy. You basically have 24 months to accomplish your goals before you or key members of your team move into their next roles.
People coming to a small company from a bigger company think of themselves as delegators and not workers. How do you get those people to be operationally efficient and do work instead of fill out plans?
People coming to a large company from a smaller company get frustrated and disengaged quickly when they can't actually do the work and multitask at a frenetic pace.
The biggest challenge a leader has when leading during a transition is getting all employees to execute the big picture at the same time you are driving operational efficiencies. While the transition is happening to create scale and volume, it's difficult to lead people to see the complete value proposition and to save money.
Get prepared for customer turnover; your entire customer base (key contacts) will turnover at least one full time over the next 36 months. As a leader, you must develop the right skills to deal with that change and those transitions.