For many leaders, the reality of the new normal has set in and they are trying to focus on setting and executing strategy to drive the business results and metrics that matter. Some of the leaders I've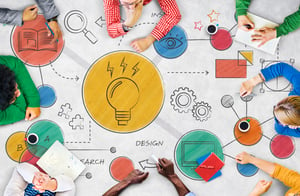 spoken with over the past several weeks have shared an upbeat, reinvigorated optimism around getting back to the fundamental elements of the business that may have been forgotten during the decade-long economic growth period.
Based on these interesting conversations – including a couple of very fun virtual happy hours – I share some tips on getting back to the basics and working on the five critical business processes that will improve the metrics that matter.
1) Reinventing the Customer Experience
We have a unique moment in time where the great companies will focus on reinventing their customer's experience that are engaging, enriching, and deliver the right value proposition flawlessly. They will also make sure they are targeting profitable customers with the right messages to bring them into the reinvented experience. The ultimate metric that matters now more than ever is the Net Promoter Score (NPS).
2) Training Your People
The conventional wisdom is that when things get tough like a deep global recession, training gets cut. But over, and over again we have seen that the great companies will actually double down in tough times to enhance the skills, but most importantly to support one of the most important metrics that matter which is employee retention.
3) Reinventing Your Sales Process
If you have not figured it out yet, the COVID-19 pandemic has disrupted the way organizations sell and I have news for you; it's not going back to the old ways. Face-to-face selling has been replaced by digital selling and in order to get to that ZOOM first sales call, a lot of smart work must be put in between the Marketing team and the Sales team. The new sales process must be able to answer the following questions in 2020 and beyond:
Who is the right customer?
What is the right message?
How do we create initial awareness and interest?
How do we differentiate the process from my competition once a customer in interested?
What does first contact feel like from the customer's perspective?
How do we accelerate the sales process?
How do we close the deal?
How do we engage the customer (see tip #1)?
The key metrics that matter here are new customer acquisition and growth of customer share of wallet.
4) Coaching for Success
As we evolve into this new world, setting goals and coaching people to success is going to be a critical process. I've spent my career designing, developing, and delivering Business Acumen training programs and I can say that one of the most astounding things I experience week in and week out is the lack of understanding of the contribution employees have in terms of the achievement of goals and objectives. It's time to set simple and understandable goals and it's time to change the way we coach towards them. There will be less room for error and easy to follow tools like GROW Coaching can be used to accomplish key metrics that matter like revenue achievement, profit achievement, and an increase in shareholder value.
5) Simplified Cash Flow and Working Capital
This health crisis has taught every business that you can never have enough cash for the proverbial "rainy day." Big companies and small companies have been pushed beyond their limits and the take-away is that there needs to be a significant re-do of the way we collect and manage cash. The key metric that matters here is cash and cash availability. How long can you go without revenue? One month? Two? Twelve? These processes must change and change quickly.
In summary, it is all changed and it's all new. This is the time to rethink the way we think about the core business processes that drive the metrics that matter.