Welcome back from break and welcome to 2016! As readers of this blog know, our purpose is to provide additional insights, skills, and tools to past-participants, clients, and potential clients in the areas of business acumen, business leadership, and strategic business selling.
As we start the New Year, I wanted to take a few moments to share and discuss a couple of concepts that can help you assess your business and the people running your business. We will provide these insights in two parts. Part one will focus on assessing your business, while part two will dive into assessing your people.
Business Assessment
As we start 2016, the business world has never been more volatile, uncertain, complex, or ambiguous. As a business leader, individual contributor, or HR professional, how can you assess your business and use the results of your assessment to make better business decisions?
In many of our business acumen and business leadership programs, we train participants to use many different assessment tools including the;
STEPID model
Industry Structure Analysis
SWOT analysis
Price/Quality Matrix
Product Positioning Matrix.
The Product Positionong Matrix
The Product Positioning Matrix is a very helpful tool in terms of setting tactical direction for Marketing, Sales, Supply Chain, Manufacturing, HR, and Finance. By understanding the relationship between your current and future product/service mix and what needs to be accomplished to achieve short- and long-term objectives, the Product Positioning Matrix helps create organizational alignment.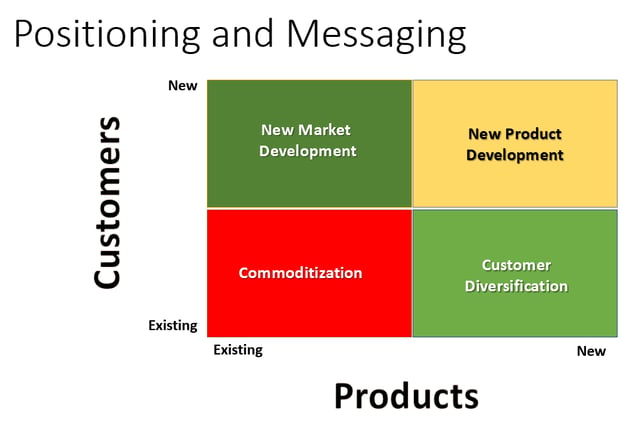 This assessment tool helps you see the big picture of how your products are perceived by your customers. Let's look at the quadrant called Commoditization. In this quadrant, your organization is selling existing products to existing customers. As time goes on and more competition comes into your market, your products become more commoditized. This forces key decisions in terms of how you go to market. Strategically, how do you compete? On price? Efficiencies of production and distribution? How does your Marketing department create awareness for commoditized products? What is the message that your sales team delivers? Who are the decisions makers?
Most of the time when a product becomes commoditized, the decision makers tend to fall lower in the organization and typically reside in the "Purchasing" department or the Contracting Department as opposed to being with a line manager.
Many of the clients we work with are frustrated and worried about their futures because they feel that their once-differentiated products are now "stuck" in the commoditization quadrant. The assessment helps you determine what to do next:
Compete harder in the commodity space?
Sell existing products to new customers in new markets?
Develop new products for existing customers?
Maintain a commodity focus while developing new products for new customers?
The suggestion here is to use this tool - and others – to have an open and honest dialogue within your organization to plot where your products fall within this matrix. This business assessment will help you decide how to continue to execute and become more aligned or will illustrate that you need to make significant changes in your strategy and approach to the market.
Part two, coming soon, will focus on assessing your people.