One of the most interesting parts of global business travel is noticing the little things about different cities and cultures. Sometimes, those little things are really big things that are worth studying and understanding from a business acumen perspective.
Take the story of Xiaomi for example.
A couple of weeks ago when I was in Shanghai, I started to notice a lot of very different looking smartphones being used by most of the young people on the metro, in restaurants, and just about every place I went. By "different," I mean an interesting looking, sleek, smartphone that was neither an iPhone nor a Galaxy. I soon discovered that the hot new smartphone is the Xiaomi Mi Pro. There are a lot of things we can learn about the strategy being deployed here in China, and soon even in other parts of the world.
Whats is a Mi?
A Mi is not only China's answer to the iPhone and Galaxy, it is China's answer to the perception that all China can do is "copy-follow-fast." Just five years ago Xiaomi didn't exist. Today in China, they are number two in smart phone market share (13.7% to Apple's 14.7%) and growing quickly. Xiaomi's founder, the eccentric entrepreneur Lei Jun, predicts that his success can't be stopped and will be able to expand into other markets including India, Europe, and the United States where the market is ripe for a low cost quality alternative.
For past participants of Advantexe's business acumen simulation programs, this is an interesting scenario that can provide additional lessons and insights. Here is what we know:
The Mi Pro compares to the iPhone 6 and the Galaxy 6 in terms of technology, look, and feel
The Mi Pro is priced

about 50% less

than both the iPhone and the Galaxy
Xiaomi uses 100% outside contract manufacturing facilities and has long term contracts for low manufacturing costs
Xiaomi does very little paid marketing; instead their marketing strategy is brand creation utilizing inexpensive social media tools
Applying Lessons of the Value Dashboard
One of the key tools that we utilize in our business acumen engagements is a concept created by Advantexe called the Value Dashboard. The Value Dashboard is a tool that enables business leaders to control how they execute their strategy to their selected customers.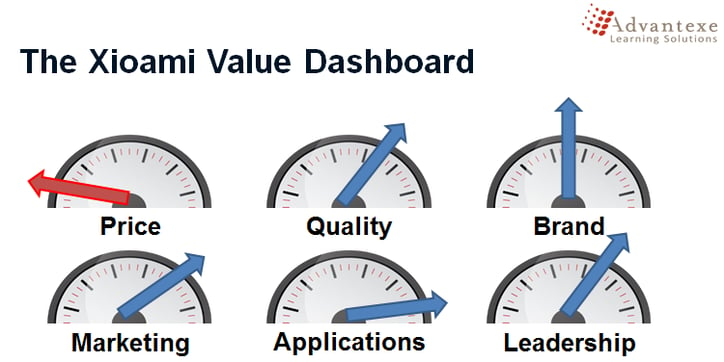 Lessons from the Value Dashboard: A Blueprint for Success
There are several key lessons and best practices that we can learn from Xiaomi by using the value dashboard:
Segmentation: Know Your Customer
Xioami understands it can't be all things to all people. They are very focused on their specific customer demographic: the young, hip, in-touch consumer who is connected socially 24/7 and loves gaming. That's it, and that's enough because China and the rest of the world is filled with this market segment.
 
Pricing
It's low. Significantly low. 50% lower than the two top rivals. That low price will always drive significant volume as long as the quality is relatively strong.
Relatively Strong Quality
Quality is the entry ticket and Xiaomi's engineers have even figured out a way to use faster chips for even faster processing.
Brand
Xiaomi has carefully nurtured their brand and have created a new, hip, alternative choice for the generation that wants and expects hip alternative choices.
Marketing
Instead of traditional (and expensive) marketing, Xiaomi has focused most of their efforts on social media marketing to drive awareness.
Applications
One of the most unique and important elements of the Value Dashboard is the creation of exclusive applications that can only be purchased and played on the Xiaomi phone. This "lock in" has created strong competitive positioning.
Leadership
The final element is the unique leadership style and team that Xiaomi has put together. They have created an environment of corporate entrepreneurship and rewards strongly for great performance.