Part 2 of 4 on Understanding the 2016 Business Headwinds and Tailwinds
In part 1 of my 4 part series on what will cause business headwinds and tailwinds for you during 2016 and what they mean to you from the Global Business Acumen perspective, I discussed, The Age of Emerging Market Urbanization. In part 2, I will focus on one of biggest challenges on almost every CEO's list, the effects of accelerating change of technology in the business world.
Accelerated Technological Change
At the current rates of global population growth, it will be impossible to feed the world with the current food systems we have in place today. As a result, new technologies have already been created to create a new paradigm for how we eat and survive. It is now possible to "create" food through the process of 3D food printers. A product called Foodini will print pizza, burgers, and chocolate by hitting a button. The "Food Replicator" from Star Trek is a reality today.
The second disruptive force is the increasing acceleration in the scale, types, and economic impact of technology. As we all know, technology has always been the primary driver of change and disruption in most markets. But what is different about technology in 2016? The difference is the accelerated speed of the change.
In the past, new innovations took a long time to become mainstream. Think about these historic innovation facts:
It took 50 years from the invention of the telephone until only 50% of American homes had one
It took 38 years for radio to capture 50 million users
It took 27 years from the invention of the automobile until there were more cars on the road than horse-drawn carriages
Now think of these modern innovation facts:
Facebook attracted 6 million users in its first year and that number multiplied 100 times over the next five years.
Two years after the launch of the iPhone in 2009, developers had created 150,000 apps. By 2014, that number jumped to 1.2 million and users have downloaded 75 billion apps (more than 10 apps per person on the planet Earth.)
Uber didn't exist five years ago. Today, Uber provides more than 1 million rides a day and own more than 30% of the 3rd party auto ride market (vs. Taxis and rental cars).
But that is today. We also need to take a glimpse into the future. Many business leaders, scientists, economists, and politicians believe we haven't seen anything yet. Let's think about the new disruptive technologies that are in development today and will be launched and mainstreamed in the next decade:
Self-driving autonomous electric automobiles
Google, Apple, and others are all working on technologies that could someday eliminate ownership of cars as well as the need for drivers.
Wearable healthcare
Your smart watch, smart phone, the clothes you wear, and the chip in your arm will be able to monitor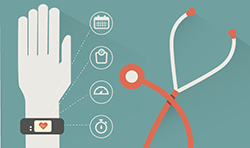 your short-term and long-term health conditions.
Digital payments
Banking as we know it may no longer exist. We are just starting to see the evolution of digital payments that include money and cash flow as well as data information flow.
Virtual reality
Imagine Netflix binge watching on steroids. Instead of watching a movie, you will be IN the movie. This new technology will spill over to gaming, adult entertainment, and hopefully training and development.
One of the key components of Business Acumen is a function of understanding where we are now, where we are going, and how we are going to get there. The 18th Annual PWC CEO Study stated that, "CEOs want to see a strong connection between digital investments and business objectives. 86% say a clear vision of how digital technologies can create competitive advantage is key to the success of their investments." Are you ready? Are you planning? Are you evolving? Take a moment to think about these future trends and the impact on your business.