At Advantexe, we are always researching and probing into the issues and drivers related to building Business Acumen, Business Leadership, and Strategic Business Selling Skills. With this information, we build our business simulations, content, and blogs that share our findings with the Talent Development community.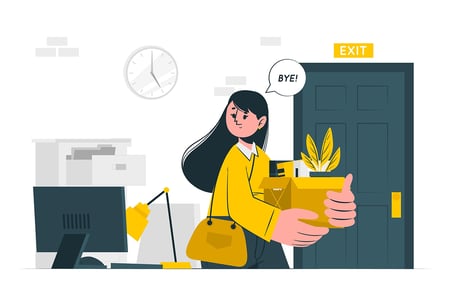 Over a series of blogs, we are going to share insights into the business and leadership drivers of "The Great Resignation." The Great Resignation is impacting every business on the planet and is dramatically shifting the perceptions of what is work, and how we work.
But what is the perspective of the Great Resignation through the eyes of three different generations in the workforce? I am very excited to launch a 3-part series of blog posts where we asked Advantexe team members, each from a different generation, about their thoughts and insights on the Great Resignation. The series starts with a generational definition of the Great Resignation and is followed by posts on why the group thinks people are leaving their jobs and is concluded with an overview of what can companies do to better retain employees.
Question One: In your own words, what is the Great Resignation?
Gen Z – Allee Stidham, Manager of Project Management
The Great Resignation refers to the record number of workers who have been quitting their jobs during the pandemic. My personal experience with the Great Resignation is that it is the norm. When the pandemic hit, I was still in college, and it was intimidating to see the workforce completely change. I was nervous about coming back my senior year and finding a job. There were a lot of unanswered questions at the time of "will anyone even be hiring now?", "how will I get good job experience through a computer screen?", and "do I need to find a job near me anymore?"
However, the pandemic brought forward a surprising trend: the Great Resignation. Companies were hiring at an increasing rate, and finding a job became a lot less stressful. After hours of interviewing from my college apartment, I had job offers in multiple states and industries and had the power to choose the job I wanted. I believe the same sentiment was had among the millions of workers who also realized that they didn't have to be tied down by location, could explore new industries, and had the power to choose.
The Great Resignation is the only job market I have had to work in, and I think it has shown my generation that jobs can be flexible. If you don't love what you do, you don't have to stay. In fact, since graduating in 2021, I know several of my fellow peers have already switched jobs, two of them switched jobs three times before finding the right fit. I remember the sentiment of having to stay at a job for a couple of years before you look for a new one because it might make you look bad, but I think those days are long gone and your job can be whatever you need it to be.
Link with Allee – click here
Millennial – Taryn Foy, Leadership Product manager
The Great Resignation is a major reckoning. While a result of the global pandemic, the Great Resignation provided an opportunity to rethink the workplace on a macro and micro level. Individually, we've been forced to consider how to build our careers and businesses have been forced to consider how the work gets done, while also taking a more thorough look at the impact of the work on the employees as people. During this time of profound reflection, we've all been challenged with being more flexible – whether that's balancing childcare and education at home all while answering the ever-growing pile of emails and work to-do lists.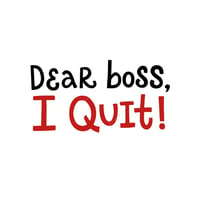 As a Millennial, the foundation of my career perspective was heavily influenced by what I can bring to a company – leveraging my skills and education. This was the focus. This was the priority. Never did I consider the return (outside of monetary compensation and health benefits) of how the actual job positions would impact my life. I was prepared to plan my personal life in the remaining hours not already dedicated to the job. Now with the Great Resignation, my outlook has shifted considerably. This reckoning has provided the space to take a deeper look at my life more holistically – and challenge the typical workplace philosophy. It's more about the synergy between what I can bring to a role and what the role does not just for my career, but my life comprehensively.
The Great Resignation might also be a consequence of employees fearing judgment or retaliation for expressing thoughts about leaving their current positions. Millennials have been successful in the workplace due to our mentors, and oftentimes, this isn't our direct manager. As we learn to navigate workplace environments, we've seen all too often after someone announces they're leaving or is seeking a reference for a role outside of the organization, there's a shift in how they're treated. To avoid that all together, we've learned to keep our job searches more private, only announcing when the next contract has been signed. The impact of this on a larger scale might be where some of the shock of the Great Resignation is coming from. For those who are comfortable and/or content in their roles, it's surprising to see others pursue other opportunities more frequently.
Link with Taryn – Click here
Gen X – Jim Brodo, CMO
The Great Resignation by definition and through many articles written on the subject, describes a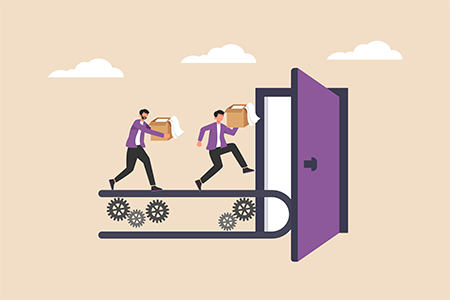 phenomenon of voluntary mass exits for employees over the past few years. Through most accounts, the Great Resignation started prior to Covid-19, but really started to intensify during lockdowns as people began to reprioritize their work and personal lives due to change, virtual offices, burnout, and overall professional frustration. While much of the focus has been on Millennials and GenZ, the Great Resignation has also had an important impact on the Xers.
For Generation Xers, the Great Resignation took on a different meaning. The Great Resignation morphed into the "Great Retirement." What Xers started to experience during the pandemic were two elements that changed the way we viewed our work-life balance and helped to define and ultimately create a push toward retirement.
Firstly, we started to see our parent's age group (Boomers and the Silent Generation) need more care and start to pass on. Due to Covid restrictions, we could not spend time with them, and we viewed this as a real loss as we have taken time for granted and spent so much of it working. We also saw that many of our parent's generation were unable to effectively enjoy their retirement due to increased costs and unexpected expenses like cell phones, cable TV, streaming services, high costs of caregivers, etc. Personally, this gave me and other Xers a new perspective in terms of what we wanted, when, and how.
The second element that pushed the Xers to an earlier retirement was our better preparation and planning with 401ks and IRA plans. During the last few years, we experienced a good economy, a booming stock market, and a crazy housing market that drove up the value of our homes. I saw a mass exit of peers selling their homes from the suburbs to the city and cutting back work or stopping work altogether. The combination of a new appreciation of time and increased personal assets created an environment that started to push up retirement dates and add to the concept of the Great Resignation.
Link with Jim - Click here
In part two we will examine the question, Why do you think People are leaving their Jobs