It is that time of the year to start looking forward to trends and predictions for the upcoming year. 2021 is going to another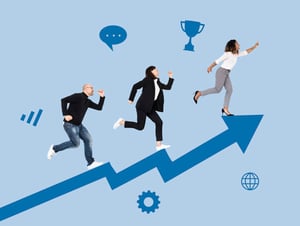 very different environment as businesses and business leaders continue to adapt to the new realities of the post-pandemic world.
For those living in the Talent Development world, one of the more interesting things we are following is the emergence of the competencies needed to thrive and survive in our "new normal."
During the holiday break, our research team spent time reviewing our own research including surveys and observations of working with thousands of leaders during the year. In addition, we reviewed more than 100 articles, blogs, and white papers from leadership development experts to understand the hot topics and trends. The result of this work is a 4-part blog series that starts with the introduction of all the key competencies and then a focus on the top 3 competencies in practical and usable detail.
7 Emerging Competencies in 2021
The first part of this blog series will introduce at a high level the top 7 competencies and the next 3 blogs will explore the top 3 in more detail.
These are the 7 emerging competencies that should be top of mind for business leaders and Talent Development professionals:
Strategic Mindset – One of the most important characteristics of highly successful strategic leaders is their ability to see and understand the big picture. They have a global view and can interpret the data and metrics they see using the insights to shape the future through problem solving and taking the right business risks.
Integrative Thinking– The concept of Integrative Thinking was introduced in a book called "The Opposable Mind" by Consultant Roger Martin. He defined Integrative Thinking as "The ability to face constructively the tension of opposing ideas and, instead of choosing one at the expense of the other, generate a creative resolution of the tension in the form of a new idea that contains elements of the opposing ideas but is superior to each."
In-the-Moment Feedforward–In the emerging remote workplace, where you don't have the opportunity to sit down face-to-face to have a dialogue with another human, giving in-the moment feedback is going to be more important than ever.
Empathy – Empathy is all about putting yourself into someone else's shoes, in order to understand what they're thinking and feeling. Empathy matters more now than ever before as new ways of working emerge including but not limited to remote leadership. Empathy is crucial during times of crisis when so many people are struggling. It's also key to producing the kinds of connections with colleagues that can generate much-needed innovation. Empathetic leaders know how to create an atmosphere in which all their team members – not just a few – come forward with ideas. They know how to engage with team members who are different from themselves because of culture, or background, or personality, or age.
Data driven decision making – The business world of 2021 and beyond has been transformed because of COVID-19. As a result, we will see years of intense, critical decision-making for managers and it will be essential for them to know how to use data to assist in the process. Business Acumen skills teach us that the key benefit of data-driven decision-making is that it removes and reduces the importance of, or the effect of, human biases, of human emotions, from the decision-making and it pushes the reliance on financial literacy and knowing what metrics matter. For managers, that begins with identifying the data needed and ensuring that it's being collected reliably and systematically. It requires an understanding of what information can be obtained from data and what cannot, as well as clearly identifying what purpose data collection will serve.
Lean Budgeting – Leadership and decision-making flexibility after COVID-19 will go far beyond allowing employees to work from home or using digital tools to be efficient and productive. Leaders are soon going to understand, and many of them will be learning the hard way, that they are going to need flexibility in all areas within the company. Despite greater efficiencies, many leaders are going to be faced with the reality of doing more with less and having budgeting and other financial literacy skills to take new approaches to the way they do business. One practical way of doing better lean budgeting is to do better sales forecasting which many organizations will struggle with because of changing data and data patterns.
Bench Strength – While everyone was focused on surviving COVID-19, not many companies were focused on building their bench for the new business world. As the global economy emerges and strengthens during the same time that the tail end of the Boomers retire, there will be an insurmountable gap of talent that most companies are completely unprepared for. Leadership fundamentals, basic business skills, strategic selling, project management, product knowledge, and all the technical skills are a few of the areas where the smart companies will invest in immediately in the hope of closing the future talent gaps.
The next segment of this series will take a deeper exploration of The topic of Strategic Mindset.