As the United States heads into the 4th of July holiday weekend, the storm clouds of recession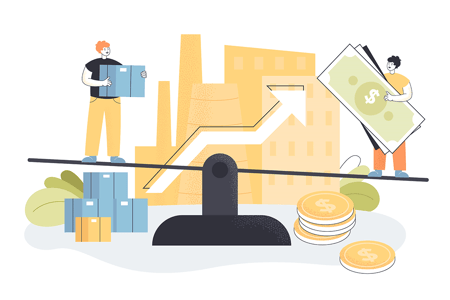 and inflation are dancing on the horizon tantalizing business leaders with a strong need to respond as they plan for the second half of 2022 and beyond.
For the first time in more than a decade, rampant inflation has become a critical business issue and something every level of manager is facing directly or indirectly.
It is impossible to predict how long this cycle will last but a majority of the experts believe it will last for several years. One indicator of the length of this cycle can be found in the meeting notes of the Federal Reserve where they continue to raise interest rates in an effort to cool off the inflation. From their actions, it doesn't look like this is a short-term thing.
I can also tell it is top of mind for many of our clients. As we gear up for our fall Business Acumen program training programs, more than 80% of the work we are doing includes customizations and shifting of learnings to how to deal with inflation. We do this through "Wobblers," Inbox scenarios, and literally changing the base conditions of our core business simulation models. Just this morning, the simulation modeling team agreed to raise the cost of capital by another 2% to account for the inflation.
The Business Acumen: How Should Managers Respond?
In classic Business Acumen approaches, there are typically three ways companies respond to inflation. None of them, in our opinion, are optimal for the long-term but they can be effective for the short-term.
Classic Approaches
| | |
| --- | --- |
| Action | Consequences |
| Raise prices | Upsets customers, pushes inflation down the road, detracts from the value proposition. |
| Eating the costs and cutting margins | Instead of raising prices and passing along the inflation, companies eat the costs which reduce margin and profits upsetting employees and shareholders. |
| Cutting Costs | Upsets just about everyone as cutting costs reduces quality, demotivates employees, and erodes brand equity. |

Approaches for 2022 and Beyond
Everything is different in the post-pandemic world. What used to work in the past may not, and most likely will not work now. In other words, we can do better than the "classic approaches" of before.
As we move forward, Advantexe is integrating the following new approaches into our Business Acumen curriculum and digital business simulation learning experiences:
Optimize Your Product Portfolio
You know it, your company knows it, and your customers know it; you have products in your portfolio that are "nice to haves" but not critical to have in support of your value proposition. Look at that portfolio and narrow your focus. Cut some of those older SKUs. The incremental investments that you are making will never be able to offset the losses due to inflation.
Strengthen Your Brand and Value Proposition
Your customers buy from you for a reason. That reason is that the perceived benefits you are providing them relative to the perceived costs are the best in your market. Now is the time to strengthen your brand and value proposition. Give your customers more value and they will be willing to pay for that value and eliminate other spending on marginal products and services from other suppliers.
Adjust Your Pricing Models
Are you in a business that allows you to think outside the box? Is it possible for example to move to a "my product as a service" subscription model? For example, the great people at P&G's Gillette business unit innovated the most incredible hot shaver that gives you a hot shave every time you load it up. It takes a special razor blade with a heating element and instead of just buying it whenever you think you need it, you sign up for a subscription and fresh new blades show up every month. The value to me is so amazing I don't even think of the pricing as I once did.
In summary, while inflation is not new, the ways of dealing with it are. Increased Business Acumen skills are just one way of making sure your everyday business leaders are prepared.