I recently delivered a virtual Business Acumen training program to a great group of mid-level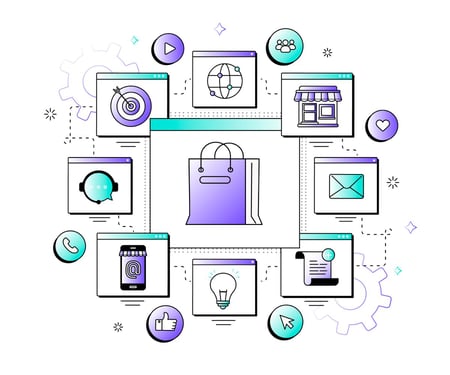 leaders at a technology company who were focused on improving their understanding of how their company makes money. About half the group came from non-commercial roles and they were given the opportunity to learn about business by running a simulated business. In the simulation experience, small teams take over a digital case study that comes to life and makes decisions in all areas across the enterprise. When it came time to making the Marketing decisions, the group, especially the non-commercial folks, really struggled with our updated-for-2022-and beyond decision and output set. More specifically, the concept of Omnichannel Marketing was difficult to understand, so I developed some content to share insights and foundational knowledge about what is happening in Marketing and Omnichannel Marketing.
This blog highlights and shares the big learnings from the session.
What does Omnichannel stand for?
Omnichannel is an integrated approach to a customer-centric methodology of multiple interaction channels managed by a single management system that is combined to improve the user experience of creating awareness for your products or services. Yikes! That is a lot of buzz words, so let me simplify and explain…
As a basic rule of business, the most important stakeholder for any business is the customer. So, basically, every step taken in business should be taken with creating the perception of our value proposition to our targeted customer.
To satisfy our customer's needs, brands need to have and then integrate both online and offline channels of awareness creation with the goal of offering a consistent buying experience to the customer. The 5 elements below depict why the customer usually "channel-hops" for even a single item:
Customers want choices
Customers are seeking a value proposition that meets their specific needs
Customers can be impatient (especially in this new digitally transformed world)
First-time customers usually go online to search for information
Customers prefer to shop locally
Omnichannel marketing helps brands think like a customer and know how they want to be engaged. As it seamlessly integrates the different communications channels, it delivers a consistent and effective brand message.
This is where the omnichannel solution steps in as it provides the targeted customer with the freedom to choose where, how, and when to engage with the product or service provider and it makes things easier with the latter. Most customers in 2022 and beyond have a much different and enlightened sense of time and want to optimize every second of it.
Omnichannel solutions focus on both online (banner ads, sponsorships, websites, apps, etc.) and offline (stores, outdoor advertisements, retails) channels. Whether it's important to combine both or go with one rather than the other is purely based on the business. There are many factors to consider including the industry, demographics, the types of products and services provided, and competition.
For example, if you are a cloud-based enterprise resource planning software provider, then you probably don't need a physical channel to consider, as your main product is software. However, if you are in eCommerce, you should consider a goal for the company to have a physical presence somewhere in the future. These considerations are built into Advantexe's new SaaS business simulation for example.
The term omnichannel is applied to many aspects of the business. If a brand can take payments through several channels they are providing much desired, frictionless omnichannel payment solutions for their customers.
What is Omnichannel Marketing?
Here is the best I can come up with for a not-too-complicated definition:
Omnichannel is the seamless integration of branding, messaging, online, digital and offline channels for customers in the sales funnel, that enables these customers to have a more impactful and better experience.
Again, a lot of buzzwords, so what this means is that the business (you) invest in acquiring various channels to be able to interact with customers with the one main goal in mind: To create a consistent brand experience. The customer, in turn, gets the opportunity to engage with brands on their own terms and via their preferred channels. The great news here is that customers have distinct buying patterns that can be tracked and then adjusted to.
The omnichannel approach is responsible for the customer's positive and consistent experience on each channel that the business provides. The multiple channels are integrated within the brand so for instance brands in e-Commerce will consider providing their customers with a physical shop, a website, a mobile app, and through social media.
In summary, the omnichannel approach gives the flexibility to the customer to browse through and add items to the cart via their desktops then check out the cart later and at their convenience via the mobile app the next day, or simply order it via a message on Facebook or Instagram.
It is clear from all the reactions of our learners in large companies that we are sharing this with that omnichannel marketing is a difficult concept to get at first, but basically, it's a cross-channel content strategy that organizations use to improve their customer experiences.
The important factors that each business should consider accomplishing through omnichannel marketing solutions are:
A consistent approach to targeted and select customers
Personalized messaging based on customer segmentation
Identifiable brand from a first glance
Seamless user experience