In part 4 of 4, Robb Gomez, COO of Paradigm Learning and Rob Brodo, CEO of Advantexe respond to interview questions about the use of simulations in today's changing corporate learning environment.

Question: Why did you decide to develop an asynchronous business acumen simulation?

Rob Brodo

The world has been disrupted. Everything has changed. We needed to change our approach to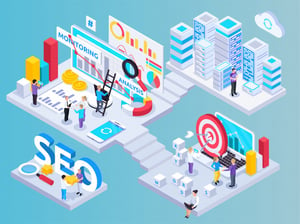 proactively use innovative tools, like scalable virtual asynchronous business simulations, to provide new opportunities for our mutual clients so they can continue to develop the critical capabilities they need to survive and then thrive. Asynchronous business acumen simulations can be run 24/7 and that's something we need to offer to organizations thinking differently about how they build the skills of their workforce.
Both Paradigm Learning and Advantexe have been working in the world of simulations for many years and have always had a great working relationship serving different segments of the corporate market. As soon as COVID-19 hit, we reached out to each other with this idea and immediately started designing game-changing solutions that we could offer to all our clients so they can continue to build their business acumen skills from brands they trust and love.
Robb Gomez

Many clients who have conducted our classroom or virtual business acumen programs over the years have asked for a "what's next" – a way to refresh, reinforce, and extend the learning beyond the session(s).
Other clients have learners who aren't candidates for live sessions because of geographic or other job-related considerations, but still need business acumen development. In these cases, a self-directed, self-paced approach can fit the bill.
And, the fact that we could partner with Advantexe, a global leader in digital simulation-centric training solutions, made the decision to develop this program an easy one!
Links to the Blog Series
Advantexe and Paradigm are currently partnering to develop an asynchronous digital business acumen simulation, Zodiak Pro, due to launch this fall.