The first month of the New Year is well underway and before we know it, we will be thinking about wrapping up the first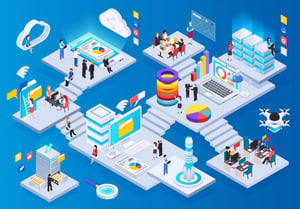 quarter. Many Talent Development professionals are currently deep in planning and designing their learning calendars. Many of you, working on the post-COVID world, are exploring the use of digital business simulations for the first time.
Whether or not you are an experienced simulation lover or an inexperienced one, I wanted to share 7 key ideas about building the best business simulations for your organizations and learners.
Over the past year, our business has expanded dramatically, and these are some of the things we've learned:
Time based for a Strong Work/Learning/Life Balance
In the new reality, everyone is trying to find the right balance of work, learning, and life. The day of the 5-day "learning event" in the Grand Cayman is probably over. It's been replaced by shorter learning connections of 1-3 hours (at the most) so people can find the balance they strive for and deserve. These learning connections can vary between 1 and 8 hours depending on the content and level of audience. But 8-16 hours of learning over 5 connections is starting to become the norm. What we have discovered is that the better the balance, the better the learning and skill adoption.
Part of a Curated Learning Pathway
With decreased time and increased technologies of learning, it is much easier to integrate simulations into curated learning pathways. For example, I am working with a client who has created the most innovative, scalable approach to teaching coaching skills and creating a coaching culture I have ever seen. The entire initiative is built around a learning pathway of multiple levels of assessment and learning that are curated for each participant, but it is also scalable. The simulation is at the heart of the pathway and connects the content to practice and a creates a learning-by-doing mindset.
Realistic
Today's learners don't want to learn about some abstract situation that they can't connect the dots to. I will never forget a dear new client sharing with me that he only used the "Orange Juice Company Simulation" because he never realized that a simulation could be built to feel like his global chemicals business. The latest simulation technologies (when used by professionals who can model and design an award winning one) can create realistic and powerful experiences that are both abstractions of reality but feel realistic from a learning and application perspective.
Immediately Applicable
In the new reality of more work and less time for anything else, remembering new content from learning is even more difficult. One of the secrets to success is being able to make new learning immediately applicable. Building your "own" simulation that is immediately applicable is critical. For example, we just launched a new program that teaches learners how to drive increased Gross Margin. After the experience, learners can immediately apply concepts and make the best business decisions that drive increased profitability through enhanced Gross Margins.
Cloud-based
There are a lot of simulations out there that are legacies from the 1990s. They may claim to be cloud-based but they really are not. Cloud-based simulations provide scale, efficiencies, enhanced security, and the best user experience possible. As the next generation of learners start to go through virtual programs, they have higher expectations that are more game-like, and your simulations must meet that entry-level criteria.
Social Learning Strategy
The disparate elements of a well-designed learning pathway that integrates assessments, content, simulations, role plays, eLearning, virtual meetings, and more are all still unaligned pieces to a jigsaw puzzle without social learning tools. Social learning tools that surround a simulation-centric learning experience provide the ability to pull it all together like a grand symphony orchestra. These tools can include:
Customized Microsoft Teams Rooms
Team-based virtual workshops
Leaderboards
Micro-content
Message boards
One-on-one coaching
Team presentations
Complex Yet Simple
The final element of the simulation-centric learning approach is to create programs that are complex, yet simple to use. By complex, they must be real and modeled with sophisticated algorithms that provide meaningful learning about the system of business so learners can learn about which levers drive which business metrics. By simple, they must be elegant and easy to use providing the learning with the optimal user interface and experience. Complex, yet simple simulations have the most profound impact on learners and their ability to retain information.