Part of the fun of being on the cutting-edge of leveraging digital technology in training and talent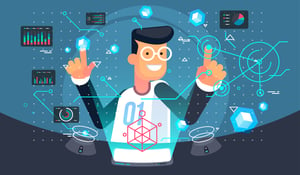 development is listening to client organizations share their insights and perspectives on things that many of us may take for granted.
Over the past 8 months, I have had the privilege of introducing professionals participating in corporate learning programs to the joys of learning through games. Leadership and business games to be specific. Many of the new organizations that I've had the chance to work with during the pandemic have used digital simulations because their previous methods of learning, most notably classroom based "talking head" types of programs, do not translate very well to the virtual learning world. Faced with the reality of doing nothing, having some trainer talk at their participants for 8 hours, or try something new, many organizations opted to try something new and the results have been spectacular.
"Digital Simulations are a Safer Way to Practice"
This week I was reviewing the feedback of a recent business simulation session with one of our new clients who took the risk of trying something new. "The scores for your simulation were better than any leadership program we've ever had and most importantly, our participants felt that the entire experience, especially the simulation, presented them with a safe place to learn."
In all transparency, I've never thought about our value proposition that way and after listening to this client, it made sense. I think we all, leaders, trainers, vendors of training, and even some participants, have taken for granted what it's like to be in an environment, like a learning program, and feel the scrutiny and judgment of others. But in a digital simulation that scrutiny is diminished because the simulation results and data are aligned to best practices that have been proven over time.
I probed the client further and had a great dialogue around concepts of emotional safety and how it can transcend the learning process. In our conversation, we discovered three reasons why digital business simulations provide a safer way to learn.
Three Reasons Why Digital Simulations Provide Emotional Safety in Learning:
Participants can fail, learn, try again, and succeed
Like most popular games, such a Call of Duty, Madden, and Fortnight, digital business and leadership simulations let learners crash, burn, learn, and try again. No matter if it is a Pharmaceutical industry simulation, or the popular Fundamentals of Business Performance, learners can go back and try over and over again. The leaderboards create competition, and the competition drives safer and more engaged learning.
The software judges on results, not people or behaviors
The software is emotionless. It has no biases toward people or their behaviors. It only judges on results. Knowing this, participants feel that the feedback, whether it is the profit on the income statement, or employee satisfaction in a leadership program, feels more believable and more sincere that traditional methods of learning where an instructor and/or peers provide the feedback and judgments in ways that can impinge on impartiality and make people uncomfortable in the classroom.
Global best practices are designed into the results and feedback
What is good? What is right? Who determines it? Is it consistent across trainers in different programs? Too often, participants of live training programs don't understand where the "answers" come from and are left to wonder whether what the instructor said is personal opinion, based in research, or somewhere in between. That creates an uncomfortable, unsafe environment. Simulations on the other hand, are based upon years of research and best practices. These best practices are built into the algorithms, models, results, and feedback which makes the experience feel fairer and much safer for learners to absorb and try new things that could lead to failure.
In summary, a safe learning environment is a healthy and productive learning environment. Digital simulations are one of the most innovative ways to provide a safe learning and safe learning will yield positive business performance.