As part of the design work we are doing for a client in the chemical industry that is focusing on
enhancing their sales skills, we conducted a survey of their customers to seek answers to the question of what the customers truly value from Sales Professionals during the sales process.
The decision makers in the survey were asked to rank five core sales competencies from 5 being the most important to 1 being the least important. Because the focus of the training is developing the skills of "hunters" (sales professionals who are identifying new customers as opposed to sales professionals "farming" existing accounts), we focused on only potential customers (prospects) and not existing customers as we felt their responses would give us better insights into the specific answers we were looking for. The data below presents a compelling argument that Business Acumen skills are the critical foundation to any sales process in 2019 and beyond.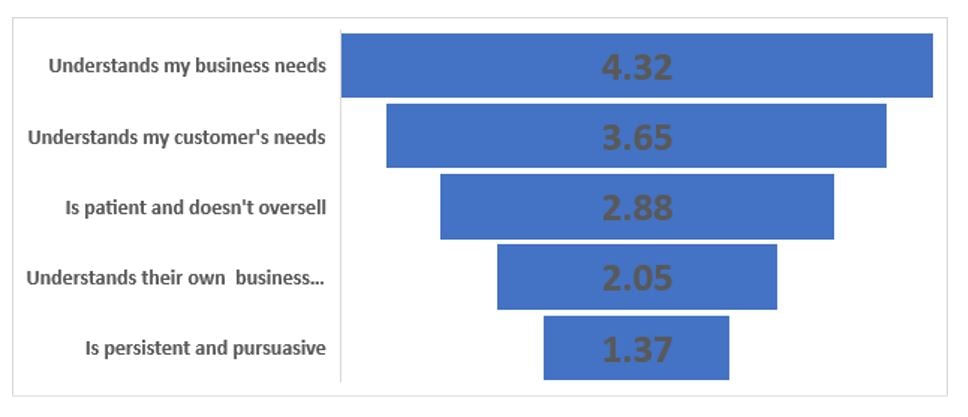 Based on a survey of 64 respondents who are prospects but not current customers
The most important competency according the customers is "Understands my Business Needs." While a score of 4.32 convincingly presents that importance, it doesn't quite explain what it means, nor does it explain how to develop it as a skill.
How Do Sales People Learn to Understand the Customer's Business?
There is only one way for Sales Professionals to become business professionals and that's to develop Business Acumen skills. Business Acumen is the ability to understand how a business makes money. This is accomplished through an integrated and system understanding of Business Strategy, Financial Management, and Operational decision making in the areas of Marketing, Sales, Manufacturing, R&D, and Human Resources. With this knowledge, great Sales Professional can engage in deep business dialogues with customers to ask the right business questions to determine the challenges and opportunities of the customer's business and how the customer measures their own business success.
It is only then – when all of the challenges and opportunities are discovered – that business-oriented Sales Professionals can start to position the value of their products and services they are selling to the customer in terms of the business impact of their solution on the customer's business. From years of experience conducting Sales Training I know the biggest mistake most sales people make is to position value in terms of the features of their solution rather than how their solution is going drive their customer's business results
Which Customer Results Can Great Sales Professionals Impact?
With Business Acumen skills, great Sales Professionals can impact two critical customer business drivers; Revenue and Expenses (COGS and Operating Expenses). Revenue is impacted by enabling customers to sell more of their products. This can occur through lower prices or more sales volume driven by a higher value proposition. For example, in one of our core business simulations we utilize to teach sales professionals better business skills they are selling a new product called "Awesome." Awesome is a raw ingredient that is used by B2B customers to produce a B2C product. The use of Awesome enhances the value proposition by making it a higher quality product and it is more efficient in manufacturing process which means less overhead and less waste which results in lower costs. The great Sales Professional uses this business impact to sell instead of just talking about how "new" and exciting Awesome is. In this example, Awesome drove both top-line revenue and bottom-line profitability.
In summary, selling with Business Acumen skills is difficult and requires a lot of effort and practice. But as we see from the data, it is the key differentiator and what customers are expecting.