Like many other industries, the food industry is going through significant changes in the ways companies go to market, attract new customers, and grow the business. It is clear that long-term success is totally dependent upon strategies that deliver the right message and value proposition to an expanding customer base.
At Advantexe Learning Solutions, we are constantly looking for unique perspectives on business acumen, business leadership, and strategic business selling to share with our participants; the strategy of Starbucks creating new innovative marketing strategies to drive business is worthy of discussion and analysis in this blog.
Starbucks is an excellent example of one of these companies creating and leveraging innovative marketing strategies to expand their market which should lead to higher revenue, profit, and total shareholder return. One of the first unique growth strategies is taking advantage of the explosion of food trucks.
The concept of food trucks has been around since the 50's but the gourmet food truck has gained in popularity only recently with the social media boom and extensive coverage through reality shows like The Great Food Truck Race. In theory, food trucks could become the next big thing in sustainable restaurants and food delivery with a very efficient and effective economic model as well. Think about it…
Food trucks are agile and can go where restaurants cannot and become a community hub
By using local and fresh ingredients, they can boost farmers markets and local growers
Menus can be changed seasonally, even daily, to take advantage of in-season produce
Since food trucks typically offer concise menus, there is room for innovation and unique food options
Well planned food truck businesses generate small amounts of waste
At the end of the day, food trucks can take leftovers to food banks on the way home
It captures a huge market--the mobile food business can capitalize on demands in different areas within a city on the same day
Food trucks can provide varied options for customers in highly commercial areas where other food choices or restaurants are limited
Effective and inexpensive marketing options are available through social media sites like Twitter and Facebook, where the business can announce their future plans, specials or even their next location
Food trucks typically have low startup, maintenance, and operating costs that can jump start a business.
There could be tremendous savings on downtime and maintenance during off-peak hours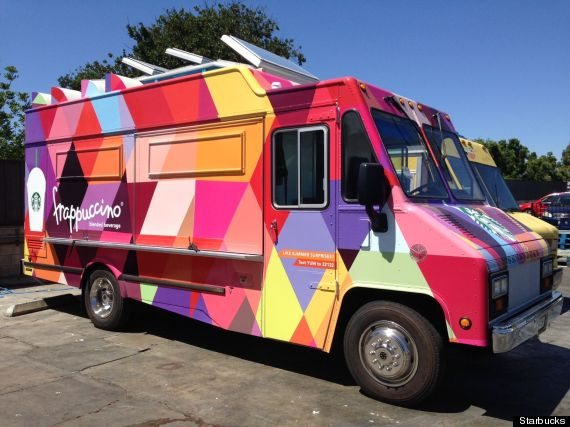 Based on this trend, Starbucks recently launched their first Food Truck in the Los Angeles area, serving Frappuccino's and other specialty items. This truck is just an addition to their 127 retail locations in San Diego and an additional 105 in Los Angeles. This new tactic allows on-the-go customers to grab a quick coffee in an accessible and different way.
The launch of the Starbucks food trucks is revving up customers on social media sites including Facebook and Twitter. It's amazing to think about the fact that the demand for a Starbucks truck to appear in New York City is now in high demand as customers are tweeting their expectations and desires. What great marketing!
 
In addition to the food truck plan, Starbucks is also developing growth strategies in other ways by targeting new customers with new products. In the past few years, Starbucks has extended their inventory to more non-coffee items including juices, tea, and food. The newest item? Alcohol. Their belief is that customers can run in and grab coffee for the day in the morning, and at night relax with a glass of their wine. What began with a single Seattle Starbucks location selling beer and wine in 2010, has slowly but methodically evolved into 26 locations. That's about to go into hyper drive. Within the next several years, the alcoholic beverage platform will expand to thousands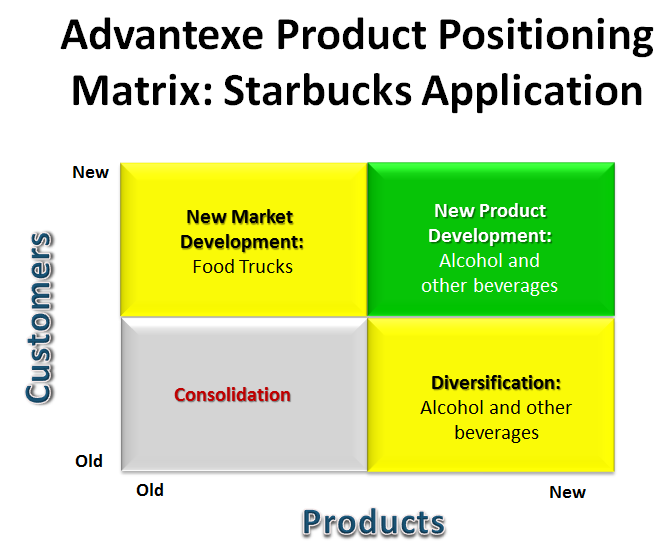 of locations. This additional innovative strategy also dramatically increases the revenue stream as an alcoholic beverage will cost almost double the amount of a typical Starbucks coffee drink (approximately $5 including tax).
The graphic below – which comes from our core business acumen training curricula – illustrates how innovative product positioning is applied at Starbucks with this new strategy.