Don't Just Check the Box
This post is not about the skills suggested by your competency vendor who built their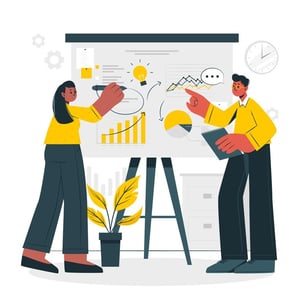 competencies database in 1983. In their tired and out of date view, Business Acumen is defined as things such "Understanding the Business," "Financial Literacy/Quantitative Acumen," and "Focusing on Customers."
While many CEOs, CFOs, and HR professionals and leaders may think this is great and "check off" a big box on their "competency to-do list" with a bunch of online videos, these words are meaningless and out of context today and beyond. Over the past year, we have been working with leaders of large global companies through our business simulations and virtual learning journeys to re-define their approach to talent development in several areas including Business Acumen.
I am pleased to share some of the deep insights we have gathered and what the real Business Acumen Skills CEOs and CFOs want everyone in their organizations to know from a practical… and more importantly… applicable way that impacts the ability to compete and achieve business results.
First, we will start with the CEO and then move to the CFO.
The Real Skills

Everything in business after the pandemic will be different including the way we work, the way we consume, and the way we interact in the business environment. Despite the impact of the pandemic on the economy, the resiliency of global businesses has come through and the next few years look very strong. Today's CEOs have an expectation that the talent in their organizations know the following three things:
How do we make money?

How do our customers make money?

How do our competitors make money?
The CEOs that we work with know in their hearts that if employees can answer these questions, they have strong business skills and insights.
In order to answer these three things, there are very specific capabilities that must be developed including:
A foundation of strategic thinking and a strategic mindset
The very basic elements of business start and stop with strategy. A strategy is the plan to deliver a value proposition to customers who are willing to pay for the value the business is providing them.
Understanding basic strategic frameworks and models are the essential skills needed to understand how we make money, how our customers make money, and how our competitors make money.
Business and financial metrics that support strategy
Once a strategy has been developed and deployed, having the skills necessary to set and measure specific goals, objectives, and results become more critical. These goals and metrics include foundational elements like:
Revenue

Revenue growth

Profit

Profit growth

Market share

Free cash flow
Measuring success through financial statements and reports
CEOs are going to expect, and sometimes demand, their employees know and understand critical business reports and use them to achieve results:
Budgets

– How to set them and how to manage to them

Profit and loss statement

– how to drive topline revenue, manage expenses, and grow profit

Balance sheet

– How to effectively manage short-term and long-term assets such as cash, property, plant, and equipment, inventories, and receivables.

Cash flow statement

– How to generate free cash flow meaning using less cash than you are than you are bringing in through the operations of the business.

Balanced scorecard

– Making the best business decisions that drive customers satisfaction, employee satisfaction, and shareholder value.
The Business Acumen Skills your CFO want you to Have
Now let us look at the desired Business Acumen skills that the CFO would like everyone to have.
The thing a lot of employees don't focus on because they don't understand it is the concept of free cash flow. More and more it's the first metric boards ask the deep questions about and the first thing a CFO talks about every morning.
In preparation of this post, I talked to a CFO about the business acumen skills he looks for from employees at all levels of his company. I hadn't realized that the CFO had just days before announced his retirement, so it was an interesting conversation.
"As I retire, I am very proud that we created a culture of financial literacy and several years ago we put into place programs to train people on understanding financial statements and my dream key business metrics." He shared three key metrics:
Free Cash flow
Free cash flow (FCF) is the cash a company generates after adjusting for cash outflows to support the operations of the business and the maintenance of capital assets like manufacturing equipment. Unlike profit, free cash flow is a measure of profitability that excludes the non-cash expenses of the income statement and includes spending on equipment and assets as well as changes in the working capital (inventories, receivables, etc.) from the current assets of the balance sheet.
CFO's dream this skill is embraced by the company because free cash flow is a great predictor of the enterprise value of the company. The more free cash flow, the higher the valuation.
Return on Invested Capital (ROIC)

The Return on Invested Capital (ROIC) is an easy metric to calculate. It is equal to the profit of the company divided by the capital invested in the business. ROIC is an excellent calculation used to assess a company's efficiency at allocating the capital under its control to profitable investments. The return on invested capital ratio gives a sense of how well a company is using its capital to generate profits (net income).
Total Shareholder Return (TSR)

Total Shareholder Return (TSR) is the ultimate metric of how much value a company is creating for its shareholders. TSR is calculated by taking last year's stock price, adding in the dividends and/or capital gains, subtracting this year's stock price, and dividing by last year's stock price. The metric provides shareholders with their return. Let's take a look at the TSR of Amazon since March 3, 2020 and March 2, 2021.
On March 3, 2020, Amazon's stock price was $1,909 per share, while on March 2, 2021 it was $3,146. In this example, Amazon has never paid a dividend so their TSR is 621%!Next, let's take a look at Johnson & Johnson who recently won approval for the 3rd COVID-10 vaccine.

On March 3, 2020, J&J's stock price was $143.50 per share, while on March 2, 2021 it was $162.76. In addition, J&J has provided a $1 dividend for 4 quarters adding $4 of value to the investors. Their TSR is 16.2 % which is a great investment when you compare it to a typical bank savings account that is yielding less than 1%!
Summary
In summary, CFO's think and dream differently than their CEO counterparts, yet they both have an eye on the metrics that matter and the overall financial health and success of the company. CEOs tend to focus more on the big picture strategy and execution while the CFO focuses on a few key metrics and objectives by which you judge the success of the strategy on business results.
As we continue to climb out of the pandemic, every CEO and CFO is going to start asking questions of human resource professionals about the plans and programs to develop Business Acumen. They need to know that the employees and business leaders of the organization cannot only define a business term or concept, but truly know how a business works and have the ability to understand and execute the strategy to drive the key business metrics that matter for success.