As the number of COVID-19 cases continue to spike and the reality that this situation is going to last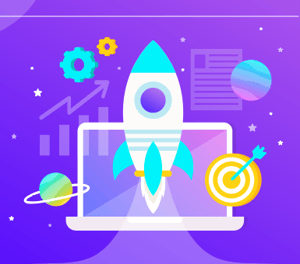 for at least another year until there is a viable vaccine or an impactful medical treatment, business professionals are now moving on from just embracing the disruption to aggressively embracing the acceleration of a new world. Having enhanced Business Acumen skills will help support and drive the acceleration. This blog examines four significant trends impacting the business world through the lens of the enhanced business acumen capabilities organizations need to survive, thrive, and then accelerate performance.
Four Key Trends in 2020 and Beyond
There are four key trends impacting business leaders that require having strong Business Acumen skills to be effective and to ensure the right business decisions are being made.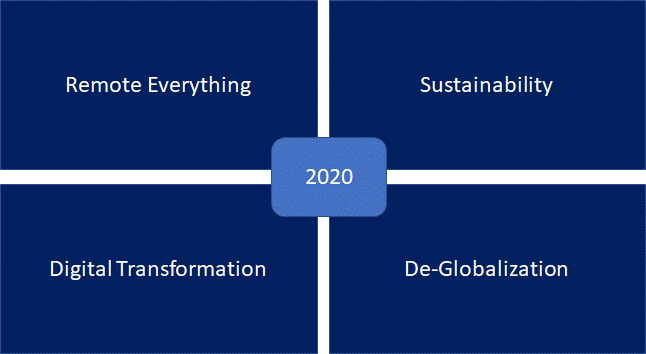 Remote Everything
It was happening slowly anyway, but this trend has accelerated more than any other trend. We literally woke up one day and everyone was working remotely and unconnected from physical interactions. Physical interactions have been replaced by technology-driven interactions and to everyone's surprise, there has been many ways relationships and productivity have been accelerated. For example, organizations are getting closer to their customers by having more frequent and more relevant conversations. Before, you would visit with key customers by traveling to see them and often the journey was expensive and exhausting. Now, you can get close to customers, look them in their eyes (virtually with high def), ask them about their families and health, and have real business dialogues.
And that's where enhanced business acumen skills come into play. With more time for quality conversations, it is imperative to have the skills to talk about strategy, financial goals, financial metrics, and the state of the business.
The same goes for internal conversations. Managers have more quality time to coach and mentor and we are seeing that there is more time to have real and meaningful conversations about the business. Leaders are sharing with us their amazement/disappointment at the lack of skills related to the business acumen skills needed to really think through issues of the business and the implications of everything being remote.
Digital Transformation
Again, the trend of digital transformation was moving along slowly but surely. The pandemic has accelerated the transformation. One of the areas that is getting the most attention is Artificial Intelligence and many organizations are reinventing themselves leveraging AI to change their business model. One significant way that AI technology is transforming modern businesses is in the advanced process automation capabilities it provides. As organizations prioritize their focus on scaling their business, reducing overhead expenses, and improving their customer experience, automation in all shapes and forms is a welcomed business element.
Business Acumen in a crucial skill here in two ways. The first is having the skills to understand the information the AI is providing and the second is having the Business Acumen skills to be able to build the AI. For example, food production and farming. I have developed an expertise in the Business Acumen side of produce and have been so happy to see many of our former student prospering and making the digital transformation through enhanced Business Acumen skills.
Sustainability
Reducing the carbon footprint, eliminating plastic waste, increasing water efficiencies, and reversing global warming are just a few of the major initiatives companies are embracing to drive better planetary sustainability. This trend is being accelerated during the pandemic and we are already seeing significant changes in air pollution and emissions based in the sheltering at home.
From a Business Acumen perspective, organizations are going to need entirely different skill sets to be able to interpret data and determine what to do with new insights related to sustainability. From our perspective, its going to be critical to know how decisions related to sustainability will have long term impact on key financials including revenue, profit, and driving shareholder value. We currently see major gaps in many organizations between their current business acumen skills and the future skills needed to make the best decisions to drive both key financials and key sustainability metrics.
De-Globalization
The final trend to discuss is de-globalization. The trend has been a volatile, abrasive, and aggressive move towards more nationalism and less cross global economic trading. The reasons for this are complex. It's political, it's economic, and it's related to perceived inequities related to jobs, creation of wealth, and power. It is my opinion, the current state of de-globalization is a direct result of real inequities driven by various governments that have taken advantage of their own inexpensive labor and raw materials. The trend toward de-globalization is going to continue in my estimation for at least another 5-10 years before the momentum swings back toward re-globalization which will be driven by a desire for rekindled tourism and interest in goods and services related to culture and experiences.
Having a foundational background in economic terms such as Gross Domestic Product (GDP), foreign exchange, CAGR, and Trade Balance are going to be critical business acumen skills now and into the future to understand and deal with this trend.
In summary, this is change unlike we've ever seen or experienced. There is no playbook for it. It's been interesting and watch, listen, and learn from the best companies and the most agile companies on how they have moved past disruption into an acceleration of a new business model. To be most effective and to create full organizational transformation, new Business Acumen skills will be a foundation.