Last week, I started a six part series of blog posts called Practical Leadership Insights about Leading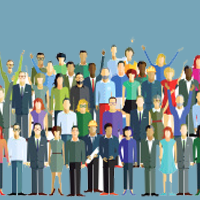 during a Transition. This series is focused on presenting real-world ideas and tools to leaders operating in the VUCA world of the "new normal." It has provided tips and thoughts on how to understand and execute business strategy through people when a business ecosystem is in transition. I discussed how I believe this is different than Change Management because Change Management is an evolving process that teaches leaders to build resilience to forces outside of the organization, whereas transition is a finite event that is controllable and usually initiated as a logical business decision.
The initial blog post outlined the six unique leadership insights that can be used starting today. We quickly realized that each key insight is rich enough to support its own blog post and additional exploration, tools, and recommendations. The second point is:
One of your primary leadership goals is to develop and deploy a short-term employee engagement strategy. You basically have 24 months to accomplish your goals before you or key members of your team move into their next roles.
What is short-term employee engagement?
I will start this discussion as I do most others with a definition of short-term employee engagement. Short-term employee engagement is a process of generating maximum performance, productivity, and engagement on the job for a 24-36 month time period. As part of the definition, you are fully aware that you, and most of your employees, will be in different companies or positions sooner rather than later. Understanding that the old normal of the "loyal" 30-year employee is over, we must acknowledge the reality of this new normal, successful leaders leverage tools and systems to create scalability. A critical part of this new system is finding ways of keeping tribal (or institutional) knowledge from leaving when employees leave.
One of the best ways of doing that is to create a business acumen culture that follows a consistent process of setting;
A value proposition
Creating a plan
Continuing to execute that plan through other people
So how do you keep employees engaged during this 24-36 month timeframe? Here are three ideas derived from our research, observations, conversations with executives and successful leaders from some of the top companies in the world.
1) Center all of the Work on Strategic Execution of the Value Proposition

When Advantexe conducts our business leadership simulation workshops, it is clear to our facilitators that within 20 minutes of the beginning of that workshop, which business simulation teams will be the most successful based on their ability to pick a unified strategy and rally around the plans and actions to execute it. In other words, engagement - even in a short time frame – can be created with the right leadership ingredients.
The beauty of a business plan is that it is typically annual and therefore finite and measurable. When driving for short-term results and employee engagement, one of the drivers of success is aligning the skills and capabilities of employees with the specifics tasks needed to execute. Employees become engaged and productive when given meaningful work that they can enjoy and excel at. From a leadership perspective this requires making sure:
You have put the right people in the right position
They have the tools and infrastructure to do their work
There is an environment of two-way trust
2) Create an Environment of Two-Way Trust
The second suggestion is derived from the first section and it is to create an environment of two-way trust. Two-way trust between leaders and employees is an equal and totally transparent relationship that provides mutual benefits for both. The opposite of two-way trust – which is the norm rather than the exception for too many organizations – is a chaotic business environment where leaders don't trust employees, employees don't trust leaders, and quality of the work suffers because of the turmoil.
I have found that many leaders start their relationships with their teams by entering the situation with the full-trust mind-set. It is when employees willingly and blatantly start to take advantage of the situation does is become toxic.
And of course the opposite is true. I have found that when leaders blatantly don't try to lead and effectively take advantage of the employees, that the situation also becomes toxic.
The only solution here is to have balance and work very, very hard at this through open communications, diffusing conflicts before they become unmanageable, and to make sure the right people are in the right positions.
3) Provide a Vision for Growth Including Encouragement for the Next Job
We all know that when top people leave a company, one of the most common reasons is that they didn't see the opportunities for growth. As I shared in the introduction, the new normal is constant movement and changes in personnel. It is no longer acceptable or healthy for organizations to allow managers to "hold" or "block" employees, forcing them to stay in positions that they are productive in, but don't enjoy, or feel that they are trapped in.
Organizations and leaders must adapt and provide a different approach that includes:
Development

– Employees want and demand development, training, and opportunities to further build their skill sets.

Coaching

– Employees desire and request feedback for what they are doing well and what they need improvement in.

Career planning

– Employees need and require real conversations and opportunities to plan their careers.