Five key insights into the new talent development environment
When "non-travelers" would hear about my 250,000 miles of air travel a year they inevitably would say, "Oh, you are just like that George Cooney character in that movie." Nobody ever remembered the title (Up in the Air), and although I look nothing like George Clooney, I always understood what they meant. It was really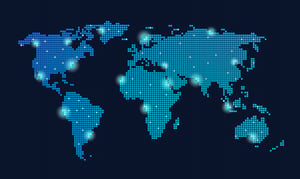 just "all about the miles."
Fast forward to 2020 and everything has changed. Most of the core everyday business travelers, such as myself, who delivers award-winning corporate training engagements, haven't been on an airplane since last March. However, the ability to travel to reach global audiences with powerful learning programs and tools like digital business simulations has never been better, easier, or more importantly… impactful and effective.
Welcome to the 250,000-mile weeks. So far in September, I have personally been able to deliver simulation-centric learning journeys in 3 continents per day over the course of several weeks. They are long days, but consider:
A high potential leaders simulation providing business acumen workshop delivered to audiences in Europe in the morning

An executive leadership simulation delivered in the US in the afternoon

A Strategic Business Selling simulation delivered to emerging Sales professionals in the evening
In each of these different types of business simulation-centric deliveries there are common themes and learnings that are changing our perspective on what is effective talent development. Our learnings continue every day and every mile. As the 3rd quarter comes to an end and we are about to embark on a volatile Q4, I wanted to take some time to reflect and share some great key learnings about the new world of talent development.
Here are five key insights that we have learned and continue to refine in a 24 hour a day global talent development environment:
Focused Chunks
Instructional designers have talked about it for years. Smaller chunks of learning spread over longer periods of time. That goal was virtually impossible in the in-person learning environment. But it is now the foundation of the new way of learning. Crafting 2-3 hours learning modules integrated into the work-learning balance is the true new normal. The key learning is that having focused chunks of learning leading to mastery of new skills is critical.
Keep it Moving
Everyone realizes that sitting in a virtual classroom, having someone talk at you is just ridiculous. You need to keep the learning moving, engaging, interactive, and exciting. I think this realization has been the driver for the explosion of off-the-shelf and customized digital simulation being integrated into many learning journeys.
Isolate Skills
One of the biggest criticisms of the old way of in-person learning is that the designers tried to do to much. "Everything is in there including the kitchen sink" because if we are getting them together for 3 days, we might as well throw every possible skill development opportunity at them. And, as we all know, that is completely ineffective. Learners usually walk away with knowledge a mile wide and an inch deep. In the new normal, it is easy to take a 12,000-mile trip to deliver a focused workshop and isolate specific skills such as reading an income statement and practicing a difficult coaching skill.
Demand Personal Action Planning
By the time learners get to the end of a 3-day in-person workshop, they are exhausted and have no desire to think about applying their new skills back to their jobs and careers. In the new normal, a learner can understand how to have a positive coaching conversation in a simulation and then create a personal action plan to use those news skills effective immediately. From a facilitation perspective, it is easy for a facilitator to now take "a quick 3,000-mile trip" to guide, support, and teach those skills in 15-30-minute increments.
Provide Reinforcement
The best part of being able to travel around the world in an instant is being able to provide continuous reinforcement of new skills 24/7. Again, the mindset of the old way of learning was once the in-person session was over, it's back to work. In the new normal, scheduling a one-hour reinforcement session for learners distributed around the world is as easy as a Teams meeting.