The easy way for most leaders to look at the business ecosystem of 2019 and beyond is to think the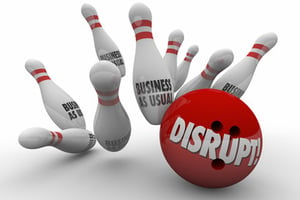 business disruption is limited to the next Uber concept or some of the new methods of targeted digital marketing tools that send you a text message when you are within a mile of a store you like. But as your probably realize, digital marketing isn't the only disruption being faced by leaders. There are supply chain management disruptions, new product innovation disruptions, workforce disruptions, and geopolitical disruptions that are impacting the way we lead and the way we work.
To survive whatever disruption(s) your organization is going through now or going to go face in the future, new leadership skills and tools are required to help embrace the realities and then create the disruptions that will save your company.
The Non-Obvious Challenges
Today many legacy organizations, formed before the digital age, are being upended by digitalization and exponential change advancing through industry after industry. Inherent in these challenges are also enormous opportunities to leverage these disruptive forces for growth and evolution of the business model. Those organizations that will thrive in this era need to recognize they must move with boldness, purpose, and agility to not only disrupt their own business models before others do, but to challenge deep-seeded mindsets that led to success in the past but won't take them to the future. These organizations and the leaders who run them will have to shape their cultures into more nimble, future-forward thinking organizations.
Leveraging the Disruption for Growth
In our research, we discovered that legacy companies go through five phases in leveraging disruption for growth:
Facing up to the challenges and opportunities
Committing to act
Executing through uncharted waters
Leading, engaging, and evolving the organizational culture
Championing continuous learning
The Disruption Competencies Needed for Growth
Leading the five phases of disruption require new skills and tools that are not easy to develop. They include:
Be Anticipatory: Scanning day-to-day business interactions for weak signals of changing conditions, spotting traps that sideline legacy organizations, and making sense of discordant, disorganized, or emergent information.
Act with Courage: Acting whole-heartedly in the face of fear or discomfort, being willing to experiment, take smart risks, learn from mistakes, and persevere
Practice Versatility: Honoring and freely using opposing approaches simultaneously, unlimited by bias in favor of one and prejudice against the other.
Demonstrate Empathy: Putting yourself in other people's shoes and connecting to engage them or jointly develop solutions that meet their needs.
Exhibit Curiosity: Being inquisitive, exhibiting a desire to learn, challenge assumptions and flip predominant ways of thinking; asking "What might be possible here?" and exploring beyond your traditional competence.
Skills into Disruptive Actions
So, how do you take these disruption skills and put them into actions that will lead to success? As a company that designs leadership development programs that use interactive business simulations, our recommendation is to enable leaders to embrace and leverage the inevitable disruption that is hitting each industry by:
Proactively spotting the traps that legacy firms commonly fall into when faced with disruption
Making decisions that balance the best practices of preparing for disruption while keeping the core businesses running at optimal efficiency
Demonstrating the ability to pivot and apply leadership mindsets and skillsets that will best influence and engage others to move past resistance and accelerate the transformation of the organization
Widen perspective to pick up on weak signals in the market and challenge assumptions preventing the company from seeing the possibilities disruption presents
Discover existing customer points of friction and develop new and potentially disruptive opportunities for growth
Identify exponential leadership mindsets to help leapfrog the organization forward
Inspire contribution, collaboration and commitment from a place of humility, curiosity and empathy with customer needs.
We are living and leading in exciting times. And we have choices; choices to either become a legacy company that will become the next Kodak, or figure out a way to reinvent itself like year after year like Microsoft. The choice is really yours…