Real, Impactful, and Effective!
The world changes not in small increments, but in gigantic, life-changing events and scenarios. Pearl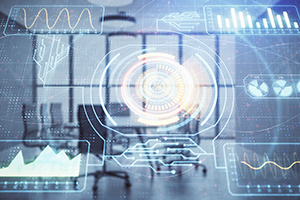 Harbor Day, the JFK assassination, man on the moon, Watergate, Iran hostage crisis, the dot-com bust, the terrorist attacks of 9/11, the real estate financial crisis, the global economic expansion of the 2010's are just a few events that happened suddenly and changed everything.
The world is wondering and waiting to see if the Coronavirus of 2020 will be one of those game and life-changing events that change everything. So far, it is having a profound impact on travel which in turn has had a profound impact on the corporate Training and Development.
In efforts to be safe and to protect their employees, many organizations are postponing or canceling their critical live delivery Talent Development programs. Obviously, protecting people for the virus is priority one, but there are excellent alternatives to live deliveries that are engaging and impactful.
Over the past decade, Advantexe Learning Solutions has strategically evolved our business model to become more focused on virtual learning. The first step we took was to migrate all our business, leadership, and sales business simulations to cloud-based platforms for virtual deliveries. We realized that the days of running around breakout room to breakout room were antiquated and wouldn't meet the needs of today's learners. Most importantly, the use of interactive technologies like simulations holds the user's attention as opposed to death-by-PowerPoint where participants will likely start multitasking within five minutes of the streaming learning session.
The second thing that we did was to build a world innovation center in Conshohocken, Pennsylvania just outside of Philadelphia where we can broadcast our award-winning instructors to audiences around the world using live video streaming technologies.
Next, we re-tooled the hundreds of content modules in our curriculum library so they can be delivered virtually live, or via eLearning to offer participants different modalities of learning.
As the world teeters on the cusp of unprecedented change as a result of the Coronavirus, Advantexe has already pivoted and is delivering various forms of simulation-centric learning events virtually. Here are a few ways we are doing it:
Live Streaming Simulation-Centric Learning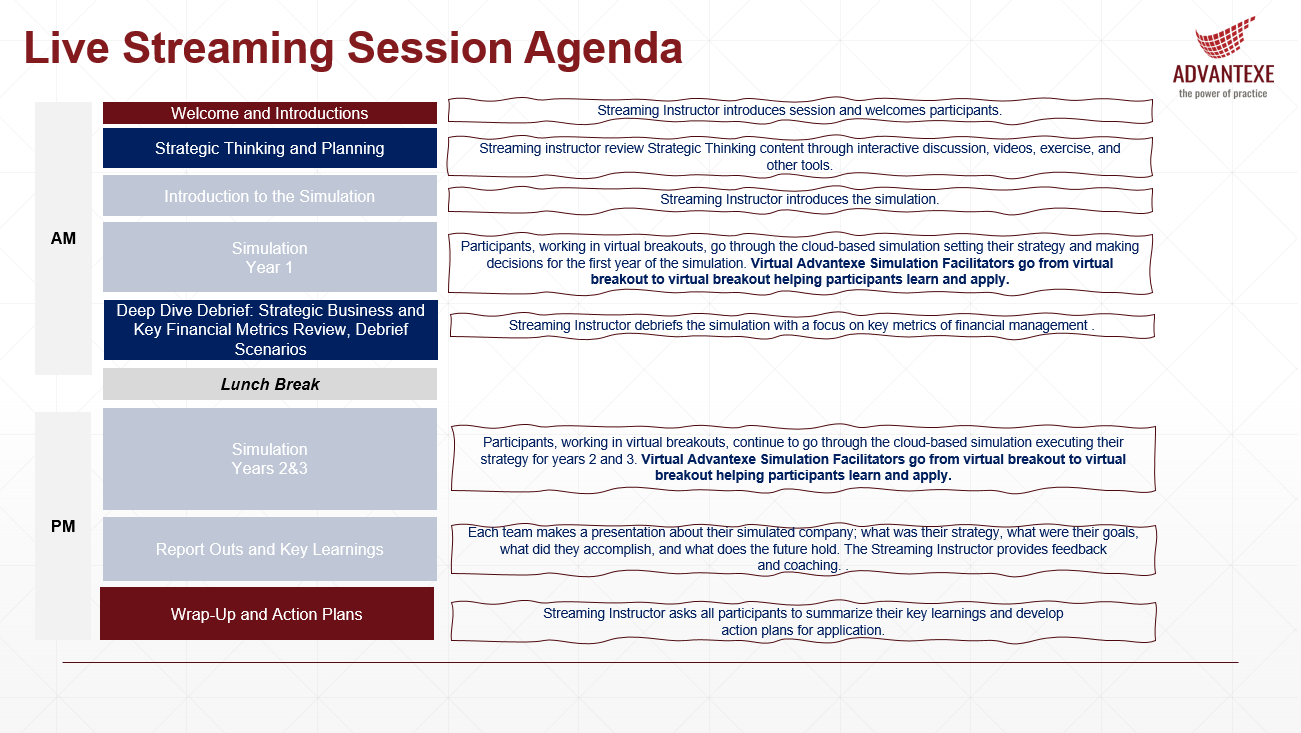 Advantexe's method of training is to integrate content with application through digital simulations. We have taken this approach to live streaming. The live streaming agenda below provides an overview of the session:
Complex Simulation-Centric Learning Journeys
Advantexe has also mastered the ability to deliver large, complex virtual learning journeys. This approach spreads learning out over time and delivers it to audiences in small chunks of time never going more than 1-2 hours. The benefit of this approach is that organizations can integrate the learning journey into the typical workflow.
In this approach, there are:
Nine (9) one-hour webinars
Five (5) group workshops (exercises and simulation workshops) of two hours each
Each component of the learning journey is carefully designed to optimize the learner's time and provide maximum benefit. Teams are set up so that we address time zones and working styles and our virtual faculty is available to help learners at every step of the journey.
In summary, yet again change rarely happens incrementally. It happens in sudden and unexpected bursts. Whether it is the Coronavirus or something else, we all have been feeling the tension between live training and virtual training and this is just the final catalyst that will change everything. Is it perfect? No. Will you people miss the socialization that goes along with training events? Yes. But in this new world, socialization is less about meeting face-to-face and more about networks within work that leverage each other to get things done. The other significant impact is that there is going to be more opportunities to learn for those who want it. In the virtual learning space, learners have much more accountability and it's up to all of us to make sure the learning is interesting, exciting, and impactful. Simulation-centric learning will do that in ways we haven't even thought of yet.
If you would like to learn more, or jump on a call to share some ideas and experiences, please feel free to contact me directly at robert.brodo@advanexe.com.