As I boarded a flight after finishing a major business acumen training session, featuring a customized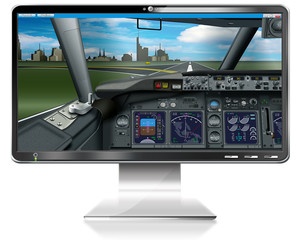 business simulation, for the leading provider of secured communications to the airline industry, I picked up an issue of the US Airways Magazine. Coincidentally, one of the cover stories was all about training; it highlighted the 15 flight simulators US Airways utilizes to regularly assess and train its pilots (http://www.usairwaysmag.com/articles/training_ground/). This excellent article reminded me of one of the ways I describe our company, Advantexe Learning Solutions: We build flight simulators for business people.
The article described the intense training process that US Airways has developed to provide pilots with the skills needed to successfully fly the various aircraft in the fleet. These flight simulations present pilots with high-stress situations, unexpected weather conditions, and other variable scenarios related to flying the plane. During the exercise, a dedicated coach sits behind the pilot to assess and facilitate learning and offer feedback.
I couldn't help but draw parallels between these training exercises and the work we do developing customized business simulations for companies around the world. An airline pilot with the lives of passengers under his wings (so to speak) is not allowed to take control of an aircraft without meeting strict training standards. Why, then, would any organization put its leaders or employees in a position to make pivotal business decisions, the impacts of which can climb into the millions of dollars without first exposing them to all the variables of a dynamic business environment through a simulation? With the investment and risk associated with launching new products, entering new markets, targeting new customer segments, and a myriad of other business issues executives address every day, training in a risk-free environment is key to giving leaders the confidence to trust their instincts as they execute bold strategies in the real world.
Most Talent Development specialists know, there are three primary ways for leaders to learn:
On-the-job experiences
Learning through relationships
Programmatic learning
A business simulation is a tremendous programmatic learning tool. Not only does it expose leaders to issues they may not even have considered, but the bespoke nature of the exercise creates relevant learning that can be applied immediately to real-world challenges.
Understanding the Big Picture
Talent Development is increasingly about preparing current and future leaders to be better business people; simulations are a key tool in supporting that development.
A business simulation workshop gives participants the opportunity to move beyond their typical roles and walk a mile in the shoes of executives, giving them a better understanding of the big picture of business. A simulation that incorporates real-world competitive dynamics and mirrors a particular business enterprise or division encourages participants to try new things in a familiar environment without letting them get bogged down in the details of their day-to-day jobs.
As they take control of a simulated organization, small teams of participants set a strategic direction and plan how they will execute to maximize profit and return for employees and shareholders. They learn by doing as they make tactical and operational decisions, discover the relationships between important business areas, and see the short and long-term impact of their decisions on financial results.
Over the past few years, Advantexe has worked with several leading client organizations to design, develop, and deliver award-winning business acumen learning initiatives built around business simulations. Our primary goal is to develop talent to address the most critical challenges being faced by businesses today, including:
Executing an existing or new business strategy faster and more efficiently
Achieving financial performance goals and objectives
Leading change
Providing sales professionals with the business acumen skills they need to position value
Giving decision makers the tools to make the right business decisions at the point of impact
Optimizing the supply chain through better business decision making, analysis, and alignment
Creating a greater marketing presence
A typical Advantexe learning journey integrates relevant content and discussion modules with customized business simulation workshops. For each workshop, participants have approximately 4 hours to make one year's worth of decisions in the areas of sales, marketing, product portfolio, R&D, manufacturing, human capital management, and finance. Advantexe recommends at least four rounds for participants to fully understand the tradeoffs and impacts of their decisions.
Working in small teams also provides for a wonderful laboratory to explore interpersonal and leadership issues including personality styles, influence, delegation, and giving feedback.
Advantexe's Global Enterprise Simulation (AGES) platform allows for dynamic and competitive simulation; teams compete against each other, not against a computer. As a result, every simulation workshop is different and the learning experiences unique.
Please email us at james.brodo@adavntexe.com to request a complimentary demo of our simulations.