Last week, I published a blog post detailing one of the biggest discoveries we've made during our evolution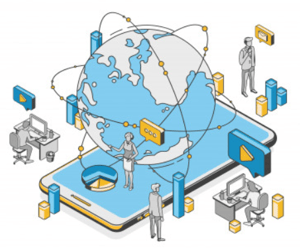 to fully virtual, simulation-centric learning. It was one of the most popular posts I've ever published, and the comments and feedback have been warm and supportive.
The basic gist of the post was to share my thoughts on a key element we overlooked when transitioning to remote program facilitation: that virtual learning creates a consistency of capabilities never seen in our industry. Over the past few months, I have personally been able to deliver the same core content and consistent message on six continents in the same week to the same company on how they make money and what better decisions they can make to drive the metrics that matter. The consistency of message is making a real difference and key Talent Development leaders are recognizing the profound shift in capabilities and decision-making.
Today, to my delight, we received more positive feedback from another major client who is in the process of rolling out a 100% virtual Business Acumen learning experience. The learning journey has been fully customized to their business, incorporates elements of machine-learning via an artificial intelligence enabled business simulation, and will provide over 800 employees worldwide the opportunity to improve their Business Acumen skills. The overall learning objective of the virtual business simulation is to highlight how all the various functions of their business including Marketing, Sales, Supply Chain Management, Research & Development, Human Resources, and Finance all come together to make money.
Here is one of the many great quotes that was included in the email we received from our client:
"I really enjoyed the simulation. We had a great discussion where all team members participated actively, and we learned from each other. It was great to see things from another perspective based on each professional/area background."
As part of the follow-up process with the client, we compiled a summary of the top three things their employees learned from each other during the simulation experience. It is my pleasure to present the key learnings. My assumption is that every organization looking to improve their organizational Business Acumen capabilities can benefit from this outstanding list.
Our Sales Team Drives Revenues by Setting Competitive Prices and not Discounting
"I never really knew how hard it was for our salespeople to sell. I thought all they did was play golf and collect commission checks. I now know that business ecosystems are extremely competitive, and why there is the temptation for salespeople to cut prices and offer discounts. But now I know that when you cut prices, your revenues go down, and if your revenues go down then your profit goes down."
Managing Supply Chain Costs impacts Earnings before Interest and Taxes (EBIT)
"Our business model is built on a foundation of supply chain management excellence. I learned, and now realize, that every decision and every dollar counts toward the bottom line. We can't take anything for granted because all the operating expenses that are comprised by our supply chain team drive our earnings. I will admit that part of my bonus was based in EBIT, but I did not really understand how we all affected EBIT until I went through the simulation. Now I can appreciate the entire process better and can make sure our team is driving the profit through better operational management."
Better Forecasting and Inventory Management Drives Working Capital
"I always thought that the more inventory we had, the better we were taking care of our customers. I had no idea that too much inventory hurts the business and the balance sheet. On top of that, I learned that if the sales team doesn't forecast well and we end up with too much inventory it impacts our working capital and if our working capital isn't strong our cash flow is poor. It's like a business is a living breathing system."
In summary, Business Acumen skills are more important now than ever before. The new reality of virtual learning has provided an incredible opportunity to scale learning in ways that we only have dreamt of. business simulation-centric learning enables organizations to develop business skills competencies efficiently and at great scale.