Part 2 - The Top Emerging Competencies for 2021
We recently introduced the Top Emerging Competencies for 2021 and today we will take a deeper dive into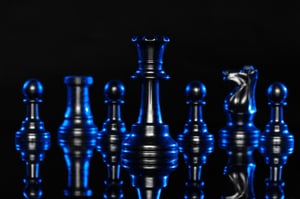 the topic of Developing a Strategic Mindset, which will be one of the "hottest" and most important competencies in 2021.
Defining the Strategic Mindset
One of the most important characteristics of highly successful strategic leaders is their ability to see and understand the big picture. They have a global view and can interpret the data and metrics they see using the insights to shape the future through problem solving and taking the right business risks.
Specifically, a strategic mindset is an approach to problem solving and decision making that focuses on the big picture and uses Business Acumen and analysis to understand the impacts of decision in both the short-term and the long term. To develop a strategic mindset, it's important to identify, understand, and use skills of strategic thinking and financial acumen.
A leader with a Strategic Mindset:
Sees the big picture – Evaluates situations and considers the broader implications of decisions on the short-term and long-term at the same time. Is able to understand the "system of business" and most importantly the "levers" that leaders pull in order to drive the metrics that matter.
Sets and executes strategy – Understands business strategy, strategic thinking tools, and strategic frameworks to choose a strategy, value propositions to customers, and then can execute that strategy through people.
Makes strategic adjustments – Can see what is working and not working before others including the competition to be able to then either persevere (keep going with the strategy) or pivot to a new or adjusted strategy.
Take risks – Uses strategic thinking skills to assess situations and is willing to try new things and brainstorm with others to identify new ways of thinking. Is able to understand the costs associated with the risks and the potential rewards of overcoming the risks.
Is Agile – Can adjust direction and make changes to meet current circumstances. Also understands how to create environments of agility where people feel comfortable feeling uncomfortable.
Enjoys being Curious – Has a natural interest in all areas and functions of the business, its customers, competitors, and suppliers. Last week, I wrote a blog about a new book I read called The Curious Advantage and how creating an environment for curiosity has been proven to have the best business results.
Is a Long-Term thinker – Is able to understand both the short-term and the long-term at the same time and before acting, and knows how to drive the metrics that matter by making the best decisions and pulling the right levers of success.
Is a "Learning Collector" – Looks for opportunities to learn and collect experiences. Is always trying to expand (and share) their knowledge and skill base rather than pretending to be an expert in everything.
In summary, leaders with a Strategic Mindset are grounded in strategic frameworks and are also open to new ideas. They are actively thinking about ways of doing things better based upon a knowledge of the big picture and what's most important to their customers. They are agile enough to balance the needs of today and the needs of tomorrow at the same time.
Part 3 of this series will take a deeper exploration of Integrative Thinking.