Anyone with access to the internet has seen the pictures of the cargo ship that ran aground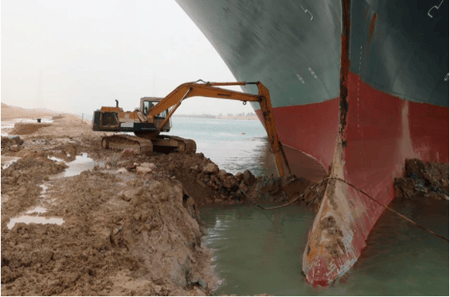 and blocked the Suez Canal for almost a week. Another in a seemingly non-stop series of issues that have included a year-long global pandemic, terrible seasonal weather, container shortages, earthquakes, fires, and tsunamis that has caused havoc on the global supply chain.
As we come to the end of the 1st quarter 2021, the global supply chain has taken a beating and business leaders with strong Business Acumen are already looking ahead and planning to create competitive advantage.
At Advantexe, we have the privilege of working with more than 50 global clients across a dozen different industries and we are seeing and hearing about some of the unique challenges that are being faced.
It turns out that one of the largest supplies on the cargo ship that got stuck in the Suez Canal was carrying semiconductor chips which already is in global shortage. The shortage of chips is going to impact many other industries including automotive and electronics.
Other major supply chain issues include plastics. Raw materials that go into the manufacturing of plastics have been disrupted. This has led to dramatic price increases and in some cases complete shutdowns of plastic producing factories. As a result, critical plastics that are made from these materials will be completely disrupted. Think about food packaging, car parts, smart phones, appliances, and housing materials will all be impacted.
What's really scary is how many of the things just mentioned like car parts, appliances, and smartphones also include semiconductor chips!
As the economic impacts of the pandemic start to dissipate once a majority of people have their COVID vaccinations, we will see the phenomenon of pent-up demand like never before in the history of commerce.
Unfortunately, while consumers are ready to spend, the supply chain may not be able to meet that demand. Many companies are already facing depleted inventories at the same time they can't get new supplies. This fluctuation in supply and demand will not be good for an economy that is still facing an unemployment rate of over 6%.
Business Acumen Best Practices
Based on lessons learned in our business simulation-centric virtual workshops and real-world application, here is a list of three best practices leaders should think about from a business acumen perspective in regards to looking at the supply chain and making business decisions:
Closely Monitor Inventories
Whatever your inventory policy is, make sure that you have enough for at least 2-3 extra months. Although that extra inventory will sit on your balance sheet, the impact of that will be negligible if you don't have enough product to sell.
Closely Monitor the Fluctuations of Raw Materials and Adjust COGS
Your COGS (Cost of Goods Sold) will be impacted almost daily by the volatility of the supply chain. It may take a little extra work, but by monitoring your COGS, you will be able to raise and lower prices quickly to meet market conditions and to maintain your margins.
Look for Alternative Suppliers and have a Plan B, and a Plan C
It is inevitable that you will someday soon get a call from a supplier telling you that they are out of supply. It may cost a little more, but you have an obligation to the business to balance out the supply chain portfolio and have several sources to even out the supply and to maintain consistency.
In summary, having Business Acumen skills is critical for business success and the big picture under normal circumstances. The impact of those skills is accentuated during times of crisis and make no mistake about it; we are about to be in a supply chain crisis. If you haven't recently, spend some time to refocus your skills on supply chain activities such inventory management, COGS management, and Supplier management.